We've Extended Our Home Deliveries Service to March 2021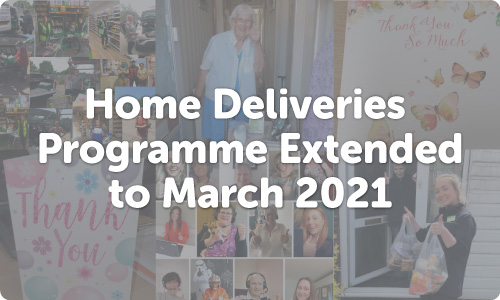 Published 8 Oct 2020 in Community
We're delighted to announce that we will be extending our Food Home Delivery Service to March 2021, ensuring we are looking after the most vulnerable in our local communities.
As we move into the colder season with the pandemic still upon us, some of our members and customers will still require our support as they self-isolate at home. That's why we've made the easy decision to continue the programme that has now reached 80,000 deliveries since March this year.
This would not have been possible without the continued support of our wonderful network of volunteers that make sure the most vulnerable in our communities don't go without at their time of need.

To find out more about our home delivery service, what products are available and how to make an order, please click here.
Help Us to Help Others
If you'd like to help us deliver food to vulnerable people, please click here.
Call & Collect Service
We also have a call & collect service for the more vulnerable in our local community who can now start leaving the home, but still need to social distance and stay safe, you can find out more by clicking here.