Jack o' Lantern Empanadas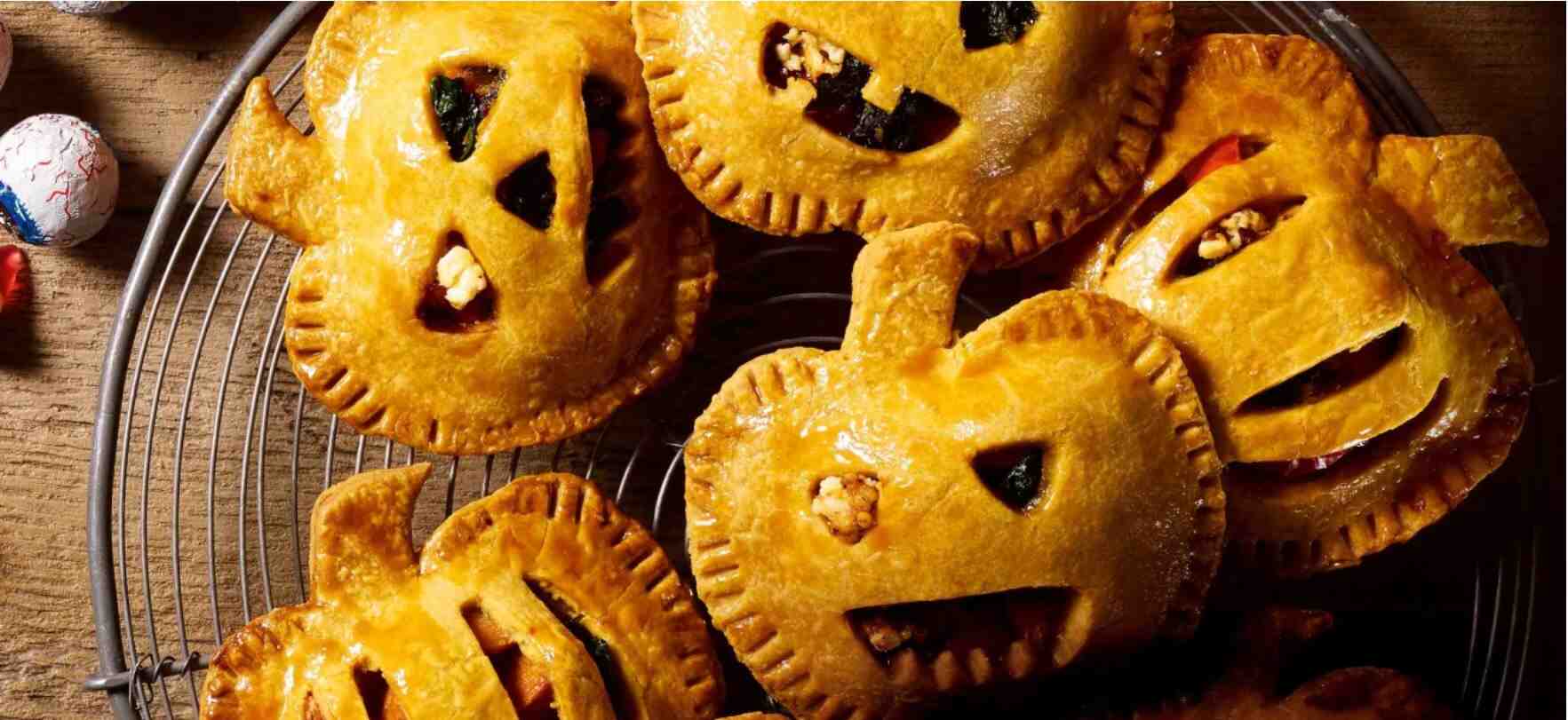 Feeds 12 people - Ready in 1 hour 30 minutes
Vegetarian
These scary faces disguise a tasty veggie

Ingredients:
375g Co-op plain flour, plus extra for dusting

1/4 tsp each turmeric, paprika and salt

150g cold Co-op unsalted butter, cubed

2 Co-op British egg yolks

200g sweet potato, diced into 1.5cm cubes

1 red pepper, cut into 1.5cm chunks

2 tbsp Co-op olive oil

1 red onion, finely sliced

2 garlic cloves, finely chopped

1 tsp dried oregano|Pinch of chilli flakes

125g bag Co-op baby spinach

75g Co-op Feta, diced
Directions:
Preheat the oven to 200ºC/fan 180ºC/Gas 6. To make the pastry, whizz the flour, turmeric, paprika, salt and butter into a crumb texture. Mix 1 egg yolk with 75ml water, add to the blender and pulse until the mixture comes together. Tip the dough onto a clean work surface and bring together with your hands. Knead briefly into a smooth ball. Wrap in cling film and chill for at least 30 mins.

While it's chilling, toss the sweet potato and pepper in 1 tbsp of the oil in a roasting tin, and season. Roast for 15 mins or until just tender. Heat the remaining oil in a frying pan and cook the onion and garlic gently for 10 mins, until soft. Stir in the oregano and chilli, then the sweet potato, pepper and spinach. Cook for 1-2 mins until the spinach has wilted, season and leave to cool before adding the Feta.

Halve the pastry and roll out on a floured surface to a thickness of 3-5mm. With a pumpkin template (see tip), cut out 10 shapes from each half. Transfer to a lined baking tray and chill in the fridge.

Put a heaped tablespoon of filling in the centre of 10 pumpkins. Brush some of the remaining egg yolk on the edge of each, then place the other pumpkins on top. Press the edges to seal, and crimp with a fork. Chill for 10-15 mins until firm. Cut out faces using a small, sharp knife, then brush all over with more egg yolk.

Bake for 25-30 mins, until the pastry is crisp and golden. Leave to cool a few minutes before serving.