Supporting Food Banks
Food Bank Christmas Appeal 2023
During December 2023, we are supporting food banks through our Food Bank Christmas Appeal which will help provide vital support for our local food bank partners and their recipients during the festive season which is difficult for many people.
Did you know... over the past year almost 3 million people used a food bank in the UK, compared to 2.2 million in the previous year!
Why are we supporting food banks?
Food poverty in the UK has been on the rise for a number of years, with over 2,500 food banks now supporting the most vulnerable in communities up and down the country.
The demand for support from food banks has significantly increased in recent years, compounded by the pandemic and increase in the cost of living which sees many more families needing that extra help to put food on the table. As a co-operative business with ethics at the heart of what we do, we're committed to supporting our local communities.
We have local food bank partners across our trading areas, helping to support the most vulnerable in our local communities through funding and collection boxes in our food stores.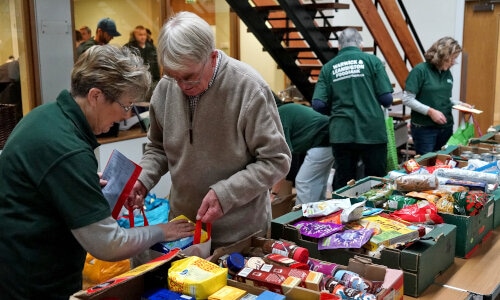 Can we bank on you this Christmas?
Help us make a real difference to someone's Christmas this year by donating an item from your basket to your local food bank.
It's easy, just pop an item in your basket that your local food bank will need, you will see these highlighted in-store, and once it's paid for, put it in the food bank bins and we'll do the rest.
Food bank reusable bags
Did you know if you buy a food bank reusable bag from the till, we'll make sure the proceeds from that sale are donated to our food bank fund? Bags of support for your local food bank.
Doing good together at Christmas.
Do you need support?
If you are in need of the services of a food bank, see below for details on how to access their services and other support…
Each food bank works with different frontline professionals such as doctors, health visitors, social workers and Citizens Advice. You will usually need a referral from one of these to access a food bank and they will normally give you a voucher for emergency food.
You may also be able to use some food banks without a referral, such as those run by churches or other charitable organisations – search online for your nearest and contact them directly to find out.
Useful contacts & online services
Citizens Advice
The Citizens Advice website has lots of useful advice. The Debt and Money section of the site is dedicated to support around financial hardship and also includes a specific section on using a food bank.
Free advice line (England) tel: 0800 144 8848

The Trussell Trust
The Trussell Trust is a charity that supports a network of food banks across the UK. You can get help, advice and find your local foodbank on their website.
Help Through Hardship free helpline
The Help Through Hardship number is a free helpline created from a partnership between Citizens Advice and the Trussell Trust and set up specifically to support people who are facing hardship. If you live in England or Wales you can call this number to talk confidentially to a trained Citizens Advice adviser.
Tel: 0808 208 2138 (Mon – Fri 9am – 5pm)

Too Good to Go app
Our stores are partnered with Too Good to Go, the app that enables customers to purchase 'Magic Bags' of reduced-price food that would otherwise go to waste at the end of the day. To download the app and find out more click here.
Mind - The mental health charity
Mind provide a wide range of online and offline services and support if you're worried about the increasing cost of living and how it's affecting your mental health.
Why not volunteer?
Food banks are always looking for volunteers to help them arrange and hand out food parcels, so why not donate some of your time and volunteer at your local food bank?
Click on the button below to find your local food bank's contact details and how to get in touch with them...