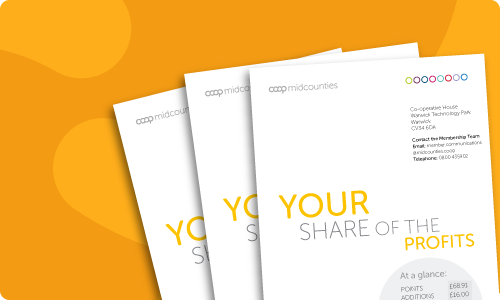 Points
We believe in being fair to all of our members, that's why everyone is eligible for their share of the profits with our points system.
Every time you use your membership card, you'll earn membership points. These points are then converted into vouchers once a year, in November. You can spend those vouchers with any of our shops and services, or pay them into your member's share account. If you prefer, you can also donate your dividend to charity.
How are they calculated?
The points you earn per pound varies depending on where you're spending your money. Take a look at the table below:
Business
Points

Co-op Food

1 point for every £1

*minimum spend £2

Petrol Stations - Fuel

1 point for every £10 spent

Co-op Funeralcare

1 point for every £1

*Awarded only to the "client" (funeral payer)

Co-op Travel

1 point for every £2

*Awarded only to the lead name on the booking

Co-op Childcare

1 point for every £1

Co-op Pharmacy

1 point for every £1

*spent on non-prescription goods *minimum spend £2

Co-op Energy

1 point for every £2

The Phone Co-op

1 point for every £1 Excluding VAT
How can I check my balance?
There are several ways to keep an eye on your balance. We'll send you a statement when you receive your share of the profits, but you can also download our member app, call the membership team on 0800 435 902, or check your Member Dashboard when you sign in to our website.
How are they distributed?
Points can be earned with all Your Co-op shops and services (as well as all other affiliated co-operative societies). All you need to do is take your membership card with you when you shop, and present it when you pay. You can also earn points by getting more involved as a member – whether that's attending events, voting or taking part in our surveys.