Your Co-op members app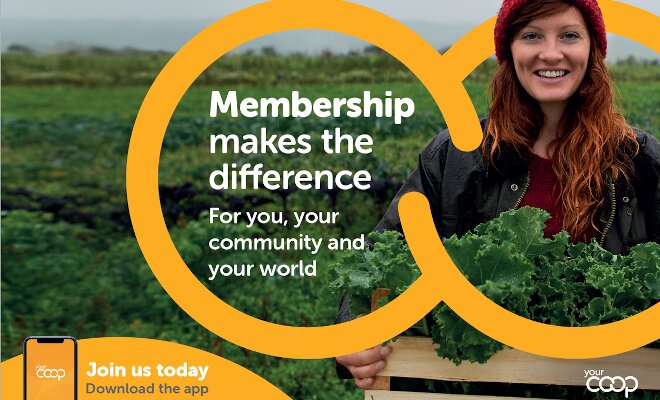 Why download the app?
Members get more – from food to travel and from energy to childcare, we've got you covered

Members pay less – exclusive member deals across all our businesses

Members make it happen – every purchase helps to fund community initiatives and support ethical trading
Download the app
Download the app today by searching for 'Your Co-op membership' in your app store or clicking on the links below...
Frequently Asked Questions
I don't have an email address. Can I still use the app?
You do need to have an email address and password to access your members app. You can add an email address by clicking on 'Register' on the app and entering your membership number and postcode.
I don't have a smartphone – do I miss out?
As well as the members app, we also have a website – from here you can view all the same content as the app, but you won't have a virtual card.
How can I find out about the latest offers?
Your offers will be updated regularly on your app and website so just check it regularly to see what's new. We will send you reminders too. You can tell us about the things that particularly interest you by going into 'settings' on your app or website. Just choose 'manage your interests' and highlight what interests you. And if you would rather not hear from us at all then just opt-out of email and/or SMS when you are in settings. We will always respect your marketing preferences. And if you change your mind later you can go to the same link and update your preferences.
I'm struggling to sign in or access my app – what can I do?
There are a few things you can check if you are struggling to sign in. First, check that you are a member of The Midcounties Co-operative. If you are, your membership number will start with 633174 950. Your postcode is the one that you have supplied us with most recently, if you have moved to a new house, this may be your old postcode.
If you are still struggling to sign in to the app or need any help, you can contact our membership team on 0800 435 902 or email us at member.communications@midcounties.coop. Our team is on hand to help Monday – Friday 8.30am – 5.00pm.