Saving Lives with Defibrillators
What is an AED and why are they so important?
An AED is a type of defibrillator that can help and support in rescuing a patient who is in cardiac arrest. They work by checking the heart's rhythm and sends a shock to the heart to restore a normal rhythm if it is irregular.
In the UK there are over 30,000 out-of-hospital cardiac arrests (OHCA) each year, where emergency medical services attempt to resuscitate the victim. However, the survival rate is very low – just 1 in 10 people in the UK survive an OHCA. Early CPR and use of an AED can double the chances of surviving an OHCA!
Partnering with Community Heartbeat Trust
As a co-operative that puts our communities at the heart of everything we do, we believe that AEDs should be available to the community day and night so that they are there for anyone who needs critical first response cardiac support at any time.
Working in partnership since 2013 with Community Heartbeat Trust, the UK's leading provider of community Defibrillator Solutions, we've now had 42 defibrillator units installed thanks to the support of our members, colleagues, and local communities.
Watch the video below to find out more about our partnership...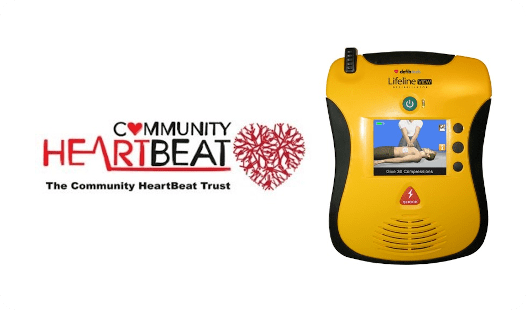 4 steps to take if someone is having a cardiac arrest
Cardiac arrests can happen to anyone, at any time. The following steps give someone the best chance of survival. If you come across someone in cardiac arrest:
Call 999

Ask someone to bring a defibrillator if there's one nearby

Turn on the defibrillator and follow its instructions
Training & Advice from Community Heartbeat Trust
Watch the video below from Community Heartbeat Trust to find out about:
How to use the defibrillator
What you should do in an emergency
How to check and maintain your defibrillator to make sure it's in working order
Getting an AED Installed
We're constantly working with our communities to continue to develop this program and support the installation of additional AED units housed on our sites, *to find out more about how this process works contact us at defibrillator@midcounties.coop
*note that Your Co-op works with Community Heartbeat Trust to install defibrillator units to a specific standard therefore it may not be possible for us to agree to the installation of units that do not meet these standards.