Young Co-operators Network
Elections 2023
This year there are seven spaces on the Member Engagement Committee (MEC), with two of those spaces reserved for a Young Co-operator!
Young members can bring a wide variety of benefits to the Committee. They bring fresh insights and ideas which may have not been thought of before. It provides young members with an equal voice to share their thoughts and opinions to ensure that young people feel represented; their ideas and voices can influence what the Society does in the future.
Supporting Documents:
Voting is now open and members who are eligible to vote will received their ballot paper either in the post or by email. Please note, you need to have been a member for 6 months or longer from the date the ballot closes i.e., became a member on or before 2 April 2023, to be eligible to vote.
Voting closes on 2 October at 5pm.
Click here to find out more.
Why join the Young Co-operators Network?
There are lots of great reasons to join us and make a difference!
Check out our video and the information below to find out more...
Influence a Multi-Million Pound Business
The YCN is run for young people, by young people. Our young ambassadors have a vital role in shaping the Network at the highest level. We have young members who have joined our Member Engagement Committee and are able to share the ideas of the YCN and help shape the future of Your Co-op.
Starting in 2021, each year young ambassadors have the opportunity to nominate themselves to run as a candidate for the Member Engagement Committee, which is not only a great opportunity to have your say and influence decisions, but also provides great experience in working with leaders of the business and an understanding of how a large organisation is run.
Each year as part of our AGM we host a young members forum, where YCN members get together to share their thoughts and ideas, as well as getting the opportunity to hear from some exciting guest speakers and inspiring leaders of Your Co-op.
Develop Your Career & Boost Your CV
Our network offers practical help for starting your working life. We've tips on writing a stand-out CV and covering letter, as well as pointers on giving a great interview. And you'll also have to chance to gain experience and start your career with Your Co-op.
Top Tips to Write a Covering Letter
Young Member Events
Throughout the year we host a wide range of young member events that you can get involved in. These can range from asking our CEO questions to meeting one of our local suppliers and finding out about their journey from an idea to a successful business.
Check out our YCN playlist on YouTube to watch some of the great events and interviews we've done in the past by clicking here.
Exclusive Competitions
Once you join our YCN Facebook group, you'll get access to our exclusive competitions where you can win anything from gift cards to theme park tickets and much more.
We regularly give you the opportunity to vote on what prizes you'd like us to give away, so we can make sure
To make sure you don't miss out on our competitions, join our Facebook group by clicking here (you must be a Your Co-op member - join us now)
Know That You're Making a Difference
Youth representation at MEC since 2019
YR on environmental steering group
Shaping the events we do for you
Exclusive surveys - Feeding your opinions & ideas back to the MEC
Our Young Co-operators Network Co-ordinator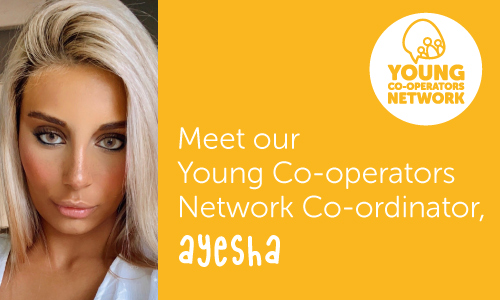 Hello, my name is Ayesha Di'Angelo and I'm the Young Co-operators Network Co-ordinator!
My goal is to create lots more conversations between young people in our membership network, whilst giving them the incentives they want and the content they need in order to co-operate to the best of their ability! I hope to bring my own understanding of the modern and material young person, and my understanding of the YCN along with the benefits it brings
Our Young MEC Members
Following the 2021 Member Engagement Committee (MEC) elections, we are thrilled to say that 4 of the 9 elected are young members! Hear more from each of them below...
Young members can bring a wide variety of benefits to the Committee. One is bringing fresh insights and forward-thinking ideas which may have not been thought of before. They will also help to provide young members with an equal voice to share their thoughts and opinions by ensuring that young people feel represented.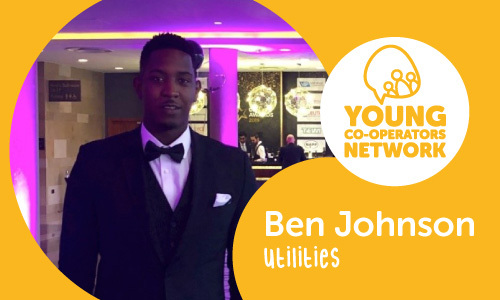 Hi, my name is Ben Johnson. I've worked for the Society for almost four years. I started in Pharmacy, before moving over to Travel and now I'm in Utilities Solutions, where I've been since March 2021. When I'm not working, my main two passions are Football and Digital. On a Saturday or Sunday, I'm either watching and playing football or building websites with digital marketing funnels for my personal projects.
I truly believe that young people should always have a voice. There's always something to learn from everyone regardless of age, especially now whilst the world is in the process of extreme digital transformation. Choices that are made today will help shape the next 5-10 years plus. It's vital that everyone has a platform to voice their passions and observations.
I'm extremely honoured to be part of the MEC and excited for the opportunities we have to raise our digital presence to the next level, whilst making it even easier for members to be a part of and help shape growth within our community.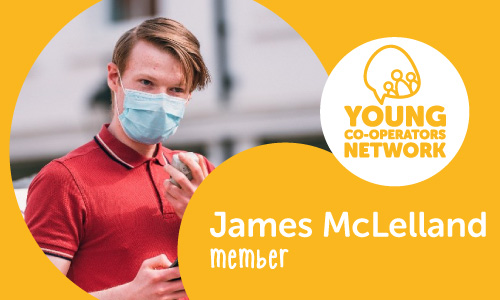 Hi! I'm James, unlike the others I'm not an employee of the Society; I work as a Team Leader at KFC.
Outside of work I'm a passionate political activist campaigning on a variety of issues, but mainly for workers rights and saving the environment. I'm also a lover of books, much to the annoyance of my bank account, and enjoy hiking.
I decided to run for the MEC after seeing there were new openings for young members, and knowing how few young people who aren't already employees of cooperatives are involved in the cooperative movement I decided to get involved. Youth voices are important everywhere, let alone in co-operatives.
I'd love to see my time on the MEC get more young people, both employees and not, get involved in our democracy, our events, and more. I'd also like our climate change work to be a lot more public, mobilising our members, especially the young ones, to get involved with it.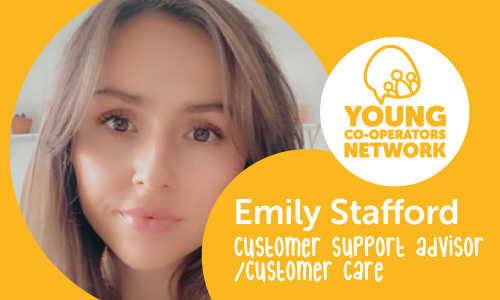 My name is Emily Stafford and I work in Retail Customer Care helping our customers and members with any concerns and queries for our food stores. I applied to the MEC and Young Co-operators as I felt my experience in my role would benefit our view of members and help put their views across to be actioned. I feel passionate about our values as a Co-op and I am interested in what we can do in our meetings to put across the young member/ customer point of view.
A little bit about me, I enjoy spending time with my family and friends and taking my dog Maisie for long walks. I currently have a passion for house plants and got a little obsessed over lockdown. I am really excited to see what the future holds in the MEC and Young Co-operators as our meetings so far have had great discussions and now we are looking forward to action these points for the benefit of our members.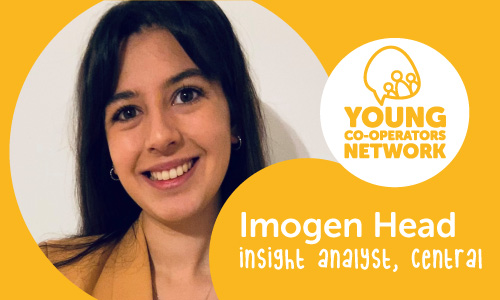 Hi everyone, my name is Imogen and I currently work for Midcounties as an insight analyst. My role consists of providing consumer insights for all the trading groups and reviewing member and customer feedback to help bring members opinions into the decisions that we make.
Outside of work I absolutely love travelling with my friends, exploring different countries and cultures. When I am at home, I enjoy nothing more than cuddling up on the sofa with a glass of wine and my two cats Luna and Reginald.
Previously I sat on the inclusivity & diversity board which further highlighted to me the importance of ensuring that there is equal opportunity and representation wherever important decisions are made. One of the reasons I joined the MEC because I wanted to try and ensure that all strategies are reviewed and implemented with consideration for those who might not be represented in the room.
I believe young people need to have a voice because we are the future of this society and paramount in driving change. By joining the MEC as a young member I hope to modernise and future proof the Society was possible and increase our young member base by ensuring the content we deliver to them is relevant and engaging.
Your Voice Matters
Every Young Co-operator has a say at Midcounties, and that starts with telling us what you think of our organisation and community through our surveys. Join 'Your Co-op Voice' to make sure your voice is heard...
Check Out What We've Been Up To
Take a look at our seasonal newsletters to find out what the Young Co-operators Network has been up to recently:
Looking After Your Mental Wellbeing
Taking care of your mental health is just as important as looking after your physical health.
We work with MIND, who are a charity organisation that offer support to people across the UK. We've selected some top tips put together by MIND to help your mental health & wellbeing. Click on the links below to find out more:
You can find more top tips and helpful information by clicking here.
If you or someone you know is struggling with their mental health, then you can contact MIND to get some advice and support by calling 0300 123 3393 or emailing info@mind.org.uk.
Get Involved...
Like our Facebook page
Follow us on Twitter
You can also apply for a work experience placement by clicking here.
If you'd like to find out more about the YCN, please email YCN@midcounties.coop
Not a Member?
Sign up to become a member of Your Co-op today by clicking the button below! You can find out more about the benefits of becoming a member by clicking here.