A Special 75,000th Home Delivery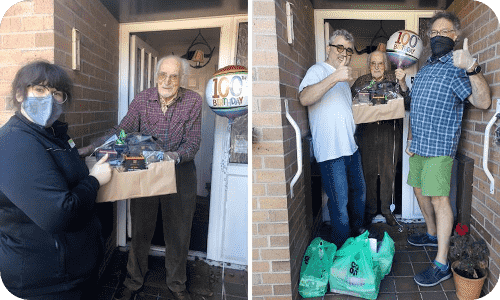 Published 17 Sep 2020 in Community
Another proud milestone for our society, as we reach 75,000 Home Deliveries to the most in need within our local communities.
However, for this delivery, Church Stretton Foodstore delivered to a very unique customer, Bruce Harris. After turning 100 on 1st September 2020, Bruce was presented with a hamper by volunteer Dave who has been with us throughout the Covid-19 period along with Sarah our Home delivery co-ordinator.
Bruce who has been kindly supported by his neighbour Colin on regular deliveries each week since the March lockdown, decided to have a week off and organised a delivery with their local Food store Church Stretton. He left us a message below:
"Many, many thanks for the hamper and the pictures. It is fantastic that he is the 75,000th home delivery, Bruce was over the moon. Also, many thanks to Dave too for the fantastic volunteering work he and the team are doing. The Co-op at it's very best!"
As well as our Home Delivery service, we also have in place the Member Call and Collect Service, dedicated to the most vulnerable members in our communities. The service ensures they can still socially distance and stay safe when collecting food shops in the continually changing environment.