We have now reached 70,000 Home Deliveries!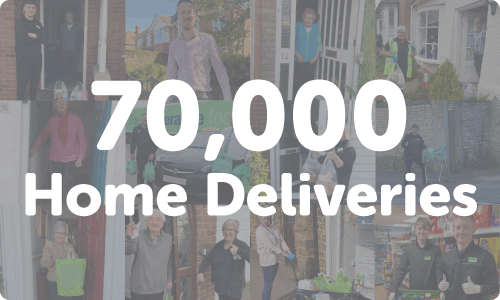 Published 17 Aug 2020 in Community
We're delighted to announce that we've now hit 70,000 Home Deliveries of essential food supplies to our most vulnerable in the community!
This wouldn't even be possible without the support of over 100 volunteering groups and 700 volunteers to deliver the supplies, showcasing our Values in Action perfectly.
We have received so many thank you's from our customers and members which is all thanks to our hard-working teams in-store, the colleagues behind the scenes and volunteers who have helped – A big Thank you to you all.
Hear from some of our colleagues who supported behind the scenes:
Jools Farrell, Community Administrator
"I've loved working on the Home team delivery team especially guiding our members through what has been a daunting, strange, worrying and emotional time for them.
The team have been great, and it's been enjoyable to work with them. Team Chat is a wonderful tool and really transformed working practices, its instantaneous and the home delivery team chat keeps you informed, and we support each other through it.
The one key thing I've overcome, which I will take away, is not to take things personally if someone is really offloading and frustrated. I've learnt to stay calm, be reassuring and explain I am there to help and guide them through. To begin a call where someone is not happy and then have them thank you for the helping and putting their mind at rest is a great feeling!
What I am most proud of is getting lovely feedback from members who you get to speak to on a regular basis. One lady I arranged a card from store to be sent with her shopping as she was lonely, and she rang my colleague to say "can you thank Julia from Wolverhampton she's made my day". I gave her a call to see how she was keeping, and she was so thankful. I'm proud that people remember you specifically and say that you've brightened their day."
Lou Brown, Community Co-ordinator
"Learning to work in a brand-new call centre set up from scratch made me think quickly on my feet whilst dealing with the most vulnerable customers in our community. Working with colleagues from other departments helped with cross team working and bonding with other colleagues. Communication skills and confidence improved so much as we had to deal with over 100 calls every day. We have brilliant camaraderie across the team, and all look out for each other especially if a colleague has dealt with a difficult customer etc. Something to note, we are dealing with the most vulnerable customers who can get upset at times, we all show empathy as the customers are worried and scared about catching the virus and sometimes that spills over when we are taking orders.
There are so many highlights and many customers who now enjoy a regular weekly chat with us, asking us how our week has been etc as for many customers we are the only people they speak to bar the colleagues & volunteers delivering the shopping. My personal highlight was taking an order for a customer who is registered blind and very vulnerable as recently widowed. Whilst taking her order she asked me to recommend a nice cake as it was her birthday and the first birthday without her husband. Our team arranged with the Chipping Norton Food store to take a card, flowers and chocolates as a treat for the customer when her shopping was delivered. The customer rang back to thank our team in tears she was overwhelmed with the kindness we had shown her on a very emotional day."
Barbara Dunne, Community Co-ordinator
"It's been really strange not doing my normal day job during lockdown and instead I've been on the Membership call centre taking home delivery orders from vulnerable people. It has been great having Teams to video conference and get instant replies to issues that crop up and meet other team members who also have other normal day job!
There is a great team spirit which helps get through these strange times we live in. I have lost count of the times when I'm on a call and have been told 'I don't know what I would do if it weren't for the Coop'. Its hard to believe that there are people who still don't have access to a computer and so you find yourself looking up information for them – for instance support group in their local area. Sometimes its a really brief phone call just taking down their weekly order but other times you realise that you're the only person they've spoken to all week and so you try to give them as much time as possible to talk through their concerns and just generally chat about the world. You really get to understand how lonely some of our community are and the difference we're able to make."
Have a read of a few customer thank you's we have received since starting the fantastic service!
"I just would like to tell you what a wonderful service we have had from our Co-op in Stourport. They have helped us so much while in this lockdown bringing us food and keeping us happy with plenty of food on the table. They are all very good and happy staff."

"I am delighted to tell you that the store has gone from strength to strength in the face of adversity. Their community spirit and true grit in these uncertain times are admirable and so reassuring. A team of volunteer drivers now takes orders to customers' doors once the store has received a phone call. NOW THAT IS JUST FANTASTIC! Thank you, thank you, thank you. With heartfelt respect and gratitude." High Street Brackley Co-op Food
"Some people haven't got anyone, so it's reassuring to know that someone's looking out for them. Even if we are only able to spend a few minutes with them, it can make a big difference to see a friendly face and have a chat."

Thank you for the Co-op for helping with one of 'my' residents shops this morning. She had called up and placed an order for me to collect. A lady called Crystal brought it to me, very pleasant staff, thank you"

"The Co-op has lived up to their name entirely in supporting the Hazelmere Volunteer Helpline and the residents in general. Ensuring that isolating residents had access to food. Their professional and flexible approach has allowed processes to be quickly put in place. Well done!"

"Called into the Co-op earlier to buy some food for a local food bank, when their staff found out what we were doing, they generously donated some extra items to help. Thank you so much Wolston Food store, it has been handed to the Betty Ennis Foundation for people in need."

"Thank you to the Co-op (the Old Knave) Lichfield Road Bloxwich for their kind donation to the Bloxwich Blakenell Foodbank"

"I just wanted to give some public recognition for my colleague Debbie Whelham who has willingly took charge of all our home deliveries as well as doing the bakery, she goes above and beyond for all our customers, despite having volunteer drivers she willingly walked to a customer to hand-deliver their last-minute shopping. I can not praise Debbie enough - Thank you Debbie!"

"Joel is the manager of the London Road Co-op. The Co-op is working with the Friends of Charlton Kings across 4 local stores to ensure that vulnerable residents and shielding families are always able to get their shopping ordered and delivered through our volunteers. Our Shopping Coordinator Lauren liaises with the store managers and our team of delivery volunteers to ensure it all runs smoothly with the minimum number of volunteers out delivering. Joel has been a huge supporter from the very first moment that the volunteer network was created."
Moving forward, we have now introduced our Member Call and Collect Service, dedicated to the most vulnerable members in our communities who can now start leaving the home, but still need to social distance and stay safe.
Understanding and taking on board our members' views, this service ensures they can still socially distance and stay safe when collecting food shops in the continually changing environment.