Outstanding Ofsted Rating for Sussex Nursery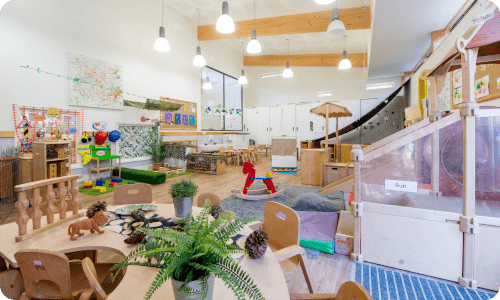 Published 29 Sep 2023 in Society Announcements
Your Co-op Childcare Sussex has been awarded an 'Outstanding' rating by education watchdog, Ofsted, receiving praise for building 'extremely strong, trusting relationships with children' and having created a 'particularly calm, homely and safe environment'.
Situated in the University of Sussex and run by The Midcounties Co-operative, the nursery caters for over 100 children aged up to four-years-old.
Assessed by inspectors as Outstanding in all areas, the centre was particularly commended for its 'ambitious' nursery curriculum and 'exceptional' quality of teaching, ensuring children's care routines and learning is of the highest possible quality to equip them with the skills they need for future learning.
Hollie Ashlee, nursery manager at Your Co-op Childcare Sussex, said: "We are thrilled to receive an outstanding Ofsted report, which is a testament to our dedicated team's hard work, willingness and continual enthusiasm to go the extra mile for our children and parents.
We are committed to providing outstanding care every day, whilst also building meaningful relationships with parents, so that our children are given the best possible start in life.
This is a very difficult award to achieve, and we are grateful that our ongoing efforts have been recognised by inspectors."
The nursery's children benefit from a well-sequenced curriculum and meticulously planned activities which allow them to build on their knowledge and practise their skills. The nursery colleagues take into account every child's interests and individual needs and as a result, children make 'exceptional progress', including those who need extra support. By the time children transition to school, they are empowered to take care of their own needs and express their ideas independently.
According to the inspector, the role model kindness, courtesy and respect from colleagues in all their interactions with children, resulted in 'exemplary' etiquette from the children, who 'quickly learn to share, take turns and form friendships with others'. The report also notes that parents described how their child 'bounds in with a smile and leaves each day thankful and happy'.
The nursery has achieved the rating in reflection of its strong commitment towards promoting children's wellbeing. Additional activities, such as learning to ride a bicycle and yoga, are designed to help promote children's healthy development.
Parents are also fully involved in their children's learning, and they attend many social events and visit the nursery to share professional skills.
The colleagues' training and arrangements for safeguarding are described as 'effective', with 'meticulous attention' paid throughout the nursery to children's safety. Parents have expressed how pleased they are to see the leaders go 'above and beyond' to support staff and monitor the quality of provision.
The full Ofsted report can be read here.
Your Co-op Childcare is run by one of the UK's largest independent co-operatives, The Midcounties Co-operative. Its mission is to provide a holistic, child-centric approach to education, helping every child to become their best selves whilst also learning about the communities and world they live in. Parents who become members of the Society will have the opportunity to play a part in how it's run, access to exclusive deals and special offers from across its Your Co-op group of businesses, as well as directly supporting good causes in their local community.
For more information about becoming a member of The Midcounties Co-operative, please visit the website.