New and Improved Your Co-op Travel Branch To Open in Sutton Coldfield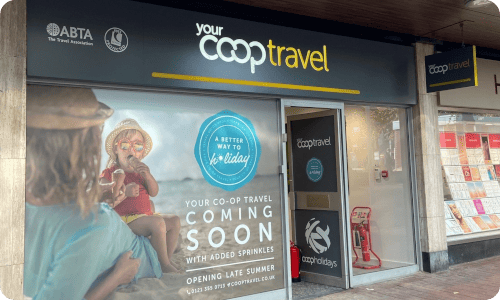 Published 22 Sep 2023 in Store Opening
A brand new Your Co-op Travel branch is opening its doors in Sutton Coldfield this week.
Currently located at 82 The Parade, the branch and its team will be relocating to Unit 24 in Gracechurch Shopping Centre on the 23rd September, providing local members and holidaymakers with a bright, fresh and modernised holiday booking experience.
As part of the opening day celebrations on the 4th October, branded cupcakes will be handed out to locals alongside refreshments. Your Co-op Travel tote bags filled with holiday essentials will also be given to customers who visit the branch for a holiday quote during the first week of it trading.
The new branch will be located between H. Samuel and Amplifon and will feature a new interactive map for customers of all ages to use to inspire their next adventure, including magnets of popular animals from around the world for children to play with and the option to scan QR codes to reveal trending destinations and products from Your Co-op Holidays.
There will also be digital screens to help holidaymakers discover the latest travel offers and unique package holidays available.
The branch team will continue to be led by Joanne Fryer and her team of experienced travel experts. Whether you're looking for a luxurious all-inclusive cruise, an unforgettable safari experience while searching for the Big 5, a city break packed with historic architecture and local cuisine, or a sustainable eco-break interacting with local cooperatives, the team will be on hand to provide recommendations on a range of holidays.
Your Co-op Travel is partnered with over 300 tour operators and the branch team are dedicated to finding the perfect holiday to suit your needs, including opportunities for unique community-focused experiences working with local suppliers around the world through Co-op Holidays, all while considering the best prices available and any travel news which may affect your holiday.
When planning a trip, Co-op Travel always add a 'little extra', either before departures, in resort or through enhanced community experiences. Holidaymakers also have the option to add airport car-parking, car hire, travel insurance and all major types of currency to their booking to make the process as smooth as possible.
Sara Dunham, Chief Officer for Travel and Leisure for The Midcounties Co-operative, says: "The opening of our new branch in Sutton Coldfield marks an exciting next step for our store team and our members and customers, with our new space including more digital and interactive features to inspire adventures across the globe.
Through Your Co-op Holidays, we have a breadth of local partnerships, which means every booking gives back to the community and the world we live in. From supporting young people to have a better future to planting trees across the UK, when you book with us you're booking more than just a trip away."
More than just a holiday, every booking made with Your Co-op Travel also goes towards helping local causes and community initiatives. For every passenger that travels with Your Co-op Holiday, £1 is donated to its charity partner, Go Beyond, and its sustainability partner, Ecologi. Ecologi operates Gold Standard or Verified Carbon Standard carbon reduction projects across the world, including reforestation, with a tree planted for every passenger that travels on a Co-op Holiday. This means that by choosing Your Co-op Travel, members can be part of doing good together.
Your Co-op Travel is part of The Midcounties Co-operative, which is one of the largest independent UK co-operatives and is fully owned by its members. Customers at the new branch will have the option to become a member of the Society, giving them access to exclusive deals as well as special offers from across the You Co-op group of businesses.
Midcounties has recently announced the launch of a new members-only offers programme, giving members the opportunity to save more every day. Whether that's buying food cupboard essentials, holidays in the sun or even two-year broadband contracts, members will be able to get even greater savings across Midcounties' family of services.
The Society is also creating a new Community Impact Fund to further increase the support it provides to good causes, whilst also making it easier and more affordable for members to make ethical and sustainable choices when trading with Midcounties – they will earn more points every time they purchase Co-op own-brand products and services, such as own-brand Fairtrade and Co-op Holidays.
The new Sutton Coldfield branch will be open six days a week from 9.00am to 5.00pm from Monday, Wednesday, Thursday, Friday, 9.30am-5.00pm on Tuesdays and 9.00am to 5.00pm on Saturdays.
For more information about Your Co-op Travel, please visit the website.