The Midcounties Co-operative Donates £2,000 to Local Child Food Poverty Organisation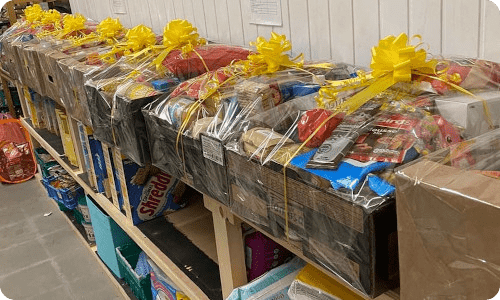 Published 15 Sep 2021 in Community
Local charitable organisation, Help to Make Tummies Full, received a £2,000 donation from The Midcounties Co-operative to help fund the charity's Summer Holiday Food Scheme.
Help to Make Tummies Full is based in Walsall and aims to reduce child hunger by delivering food parcels to schools, social workers, support workers and directly to homes, to support families who are struggling to feed their children.
The donation from The Midcounties Co-operative helped more than 300 families receive food parcels in the local area over the summer holidays.
The food parcels included fresh, frozen and non-perishable items as well as activity books and toys.
The donation came as part of the Society's Community Funding support scheme, where it offers up to £2,000 to organisations, charities, and groups to help fund vital projects that make a difference in their local communities Applications are now open on The Midcounties Co-operative's website until the 17th September.
Lucy Dennis, founder and CEO of Help to Make Tummies Full, said: "The donation from The Midcounties Co-operative meant that 309 families with children aged between 0-16 years old had full tummies this summer.
They could open their fridges and find cheese, ham, chicken, bread, butter, eggs and yoghurts. This donation really helped to reduce child poverty in our area, and we are eternally grateful for the donation."
Mike Pickering, co-operative social responsibility manager at The Midcounties Co-operative, said: "Supporting our local communities is at the heart of everything we do.
Our Community Funding scheme is designed to help organisations of all different kinds who are doing their bit to make a difference in their community. Make Tummies Full is the perfect example of that and we're so pleased to have been able to support the amazing work that they do."
The Midcounties Co-operative is the largest UK co-operative fully owned by its members. All members have a say in how the Society is run, including the work it does to support local communities in partnership with volunteers and groups. Those who sign up to become a member will also be given access to exclusive deals as well as special offers from across the Your Co-op group of businesses. To find out more information on becoming a member, please visit the website.