The Midcounties Co-operative and Aspire Launch Hub To Drive Employment and Enterprise Opportunities in Oxfordshire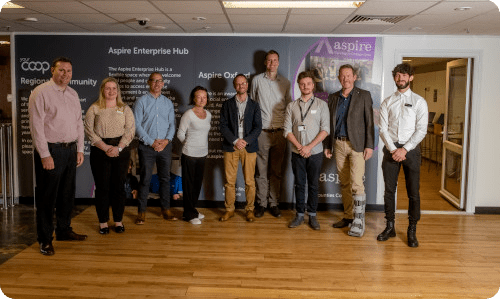 Published 24 Sep 2021 in Community
The Midcounties Co-operative has launched a brand-new enterprise hub at its Your Co-op Food store in Cowley in partnership with the local employment charity, Aspire, to support people in moving towards paid employment or developing their own enterprise ideas.
Aspire is a multi-award-winning employment charity and social enterprise that works with more than 2,000 people in Oxfordshire each year who are facing homelessness, poverty and disadvantage, supporting them into and towards employment and housing as the most powerful way to break the complex cycles of homelessness, re-offending and poverty.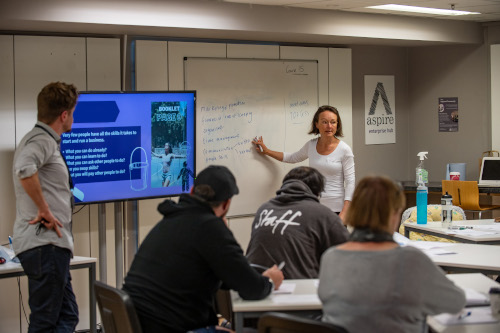 The first-of-its-kind partnership with The Midcounties Co-operative will see a dedicated space in the Your Co-op Food store used by Aspire to run initiatives via facilitated workshops, 1:1 meetings or peer group sessions. These will provide focused support for people and community groups and will support Aspire's aim to help build placed-based community wealth, and a more inclusive local economy.
The hub will also act as a base in the local community for emerging enterprises and entrepreneurs, where they will be able to receive support including business guidance and micro-grants, as well as the free use of the space and IT equipment, thereby giving more people within the community the opportunity to develop their business and enterprise ideas.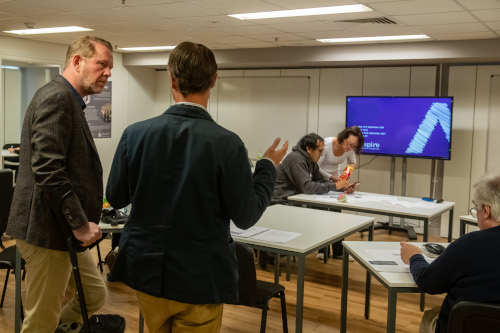 The launch of the enterprise hub is the next stage in the Society's and Aspire's work together, which has already seen the launch of the recruitment pathway programme launched at the Cowley store. The programme offers two-week work placements to help support people experiencing homelessness and other disadvantages in the Oxfordshire area and since its launch, a range of work experience placements have been completed at the Store. This has led to local employment for a number of the participants, with one participant gaining permanent employment at the Cowley Your Co-op Food store.
Paul Roberts, chief executive officer at Aspire Oxford, said: "At Aspire, we contribute significantly to the local third sector, actively encouraging a partnership approach to tackling complex social issues. The Midcounties Co-operative is our longest standing employer partner, and it's great to be able to work with them to launch our brand-new enterprise hub at its Cowley store.
The launch of the hub builds on the great work we already do in the area. We're committed to improving inclusivity and building place-based community wealth in Oxfordshire, so that everyone can benefit from the opportunities available, and we can build back better from the COVID-19 pandemic."
Phil Ponsonby, chief executive officer at The Midcounties Co-operative said: "Being socially responsible and supporting the communities in which we operate is at the heart of our business and it so important for us to work with amazing local organisations, like Aspire, who share our values and commitment to creating a fairer and more sustainable future.
We've already seen the impact that the recruitment pathway programme has had in supporting people into employment, but the enterprise hub will allow us to go further, opening up life changing enterprise and recruitment opportunities for those who are often most in need."
For more information about how to become a member of The Midcounties Co-operative please visit the website or ask in your local Your Co-op Food store.