Co-op Childcare Welcomes Hundreds of New Families to Record-Breaking Post-Lockdown Open Day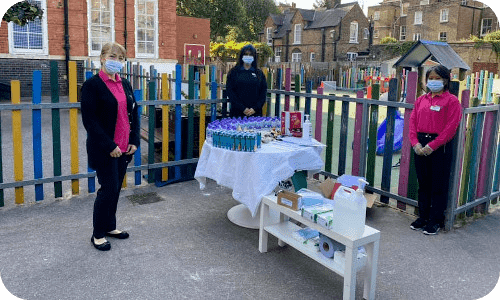 Published 17 Sep 2020 in Society Announcements
Co-op Childcare opened its nurseries to hundreds of new families at a record-breaking open day at the weekend, which saw demand for places leap as parents return to work after lockdown.
The group of 45 nurseries, located across England from Newcastle to Southampton, had been showing prospective parents around its facilities using virtual tours during lockdown, but had been looking forward to meeting families face-to-face again.
Ensuring everyone's safety was top of the agenda at the event on September 12, with measures to ensure social distancing and PPE for all, followed by a thorough clean of all buildings and resources.
And parents clearly appreciated their efforts; Co-op Childcare reported a 55% increase in bookings usually made ahead of an open day.
It comes after The Midcounties Co-operative, which operates Co-op Childcare, provided childcare support worth more than £40,000 to key workers during lockdown through its Frontline Hero Support Fund, which it launched with a £25,000 donation.
The Fund subsequently received more than 300 contributions from The Midcounties Co-operative members and the general public, helping around 170 front line worker families, who were given 50% off their nursery costs during May.
The Midcounties Co-operative kept a third of its nurseries fully open during the coronavirus lockdown, focusing on sites closest to hospitals to provide easy access to childcare for NHS staff.
And children were able to continue with key initiatives such as the Generation Play scheme linking nurseries with residents at local old peoples' homes, holding video calls, writing letters and making gifts for their elderly friends instead of meeting up.
Sally Bonnar, Chief Operating Officer of the Childcare Group at The Midcounties Co-operative, said: "The open day was a tremendous success and we can't wait to welcome hundreds of new children into our family in the coming weeks.
Of course, safety comes first and we've made lots of changes to make sure every one of our nurseries is as safe and hygienic as possible, without compromising the happiness of our children.
All of our colleagues have had extra safeguarding training and have all the supplies they need to keep children and team members safe.
Throughout lockdown, we've been doing all we can to support the communities where we operate, including through our Frontline Hero Support Fund, and the support we've received from our members and the wider public has been humbling.
We know that this is a challenging time for families and we want to give them peace of mind that we will keep on going above and beyond to ensure that our nurseries are happy, healthy and protected."