The Midcounties Co-operative Celebrates One-Year Anniversary of Its' Community Spa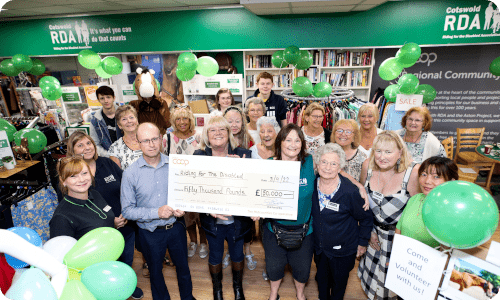 Published 24 Oct 2022 in Community
The Midcounties Co-operative celebrated its one-year anniversary of the Cotswold Riding for the Disabled Association's (RDA) charity shop and its community space at its Your Co-op Longlevens store.
Members, volunteers and customers came together to enjoy tea and cake, as well as a game of tombola to help raise money for the Cotswold RDA – a Cheltenham-based charity that delivers horse riding lessons for those living with physical and mental disabilities to help improve their health and wellbeing.
Since the Cotswold RDA charity shop opened last September, it has raised more than £50k by selling a range of good quality pre-loved items and bric-a-brac, with all funds going towards covering the costs of its 15 ponies for a whole year, including feed, field maintenance, vets, dentists and physiotherapy.
Matt Windridge, Head of Food Markets Supermarkets, from The Midcounties Co-operative said: "Supporting our local communities is at the heart of everything we do so it was great to be able to bring people together to celebrate the one-year anniversary of the Cotswold RDA charity shop and community space at our Your Co-op Food Longlevens store.
The Cotswold RDA shop has been able to raise a significant amount in the first year it's been opened, all thanks to the efforts of the wonderful team there, as well as our local members, volunteers and customers."
Lesley Gorton, General Manager, from the Cotswold RDA, said: "We are delighted with the performance of our charity shop within the Your Co-op Longlevens store over the past year. We are incredibly grateful to The Midcounties Co-operative for its support and in particular to the colleagues, management and dedicated group of volunteers at the Longlevens store, who have all been extremely dedicated and enthusiastic in their support."
In addition to the charity shop, the event also marked the one-year anniversary of the Your Co-op Longlevens store's community space where organisations from across the area are able to meet, run events, or host information sessions free of charge.
Local community groups and members of The Midcounties Co-operative can book the space free of charge and discuss any questions, by contacting the store manager, Nik White at 01452 305234.
For more information about becoming a member of The Midcounties Co-operative, please visit the website.