Midcounties Launches New App to Help Members Make a Difference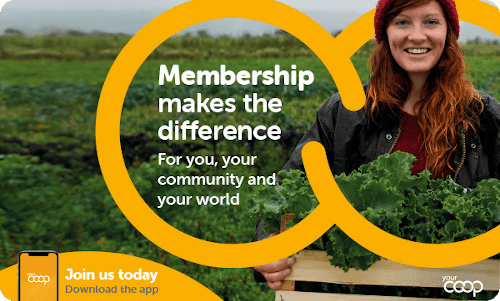 Published 19 Oct 2021 in Society Announcements
The Midcounties Co-operative has launched a new app that will put the benefits of membership in the palm of people's hands for the first time and make it easier for its 700,000 members to make a difference in their communities.
Membership of Midcounties is open to anyone if they share the Society's values, live in the UK and are aged 16 years or over. The new Your Co-op app not only gives members access to exclusive offers and deals, but also focuses on the values that drive everything Midcounties does. The app will allow members to engage directly with the Society as well as connect with like-minded people who want to play their part in supporting the communities where they live and work.
By downloading the app members will be able to see the positive impact they have when they purchase goods and services from Midcounties' Your Co-op family of businesses, which include food retail, travel, childcare, energy, broadband, mobile and healthcare.
Members will also find opportunities to get involved themselves – whether that's supporting community groups or helping to clean up local parks and beauty spots.
As Midcounties is fully owned by its members, the app will allow them to digitally have their say in how the Society operates and shape its future by engaging with Your Co-op's online conversations.
In recognition of their support members will also get exclusive offers and deals, including:
5% off all UK holidays and experiences from Not in the Guidebooks, a global travel co-operative that supports local communities, environments, and wildlife.

10% off Your Co-op Broadband packages, which help customers reduce their carbon footprint and funds the planting of one tree every month for each customer

50% off the first month's fees through Your Co-op Childcare.

10% off online purchases from Your Co-op Healthcare (some exclusions apply).
In this year alone Midcounties members have helped to give more than £50,000 to NHS Charities Together, a further £50,000 to Midcounties' food bank fund, and more than £80,000 to support over 200 local charities and community groups.
With its members' help, Midcounties is now recycling 99% of the waste it produces and has introduced soft plastics recycling across its Food stores to ensure that 100% of co-op branded packaging is now widely recyclable.
It is also helping to drive the green economy and reduce the reliance on fossil fuels by supporting 174 community-run green energy projects across the UK by paying them a fair price for the renewable electricity they produce. The Your Co-op Energy Community Power Tariff is the UK's only tariff 100% powered by community-run green energy projects.
Phil Ponsonby, Midcounties Group Chief Executive, said: "The Your Co-op app puts the benefits of membership in the palm of our members hands for the first time. Becoming a Midcounties member is quick and easy, and I'd encourage anyone who wants be get more, pay less and make a difference to download the app today."
To download the Your Co-op Members app, click here.