The Midcounties Co-operative Partners With Aspire To Help Homeless in Oxfordshire With Employment Support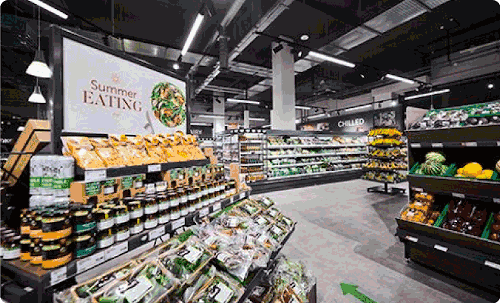 Published 18 Mar 2021 in Community, Society Announcements
This week, The Midcounties Co-operative launched a new project to help support homeless and disadvantaged people in Oxfordshire.
The Society has partnered with local employment charity, Aspire, to provide work experience and supported employability opportunities for people experiencing homelessness.
Aspire is a multi-award-winning employment charity and social enterprise that helps more than 2,000 people in Oxfordshire every year who are facing homelessness, poverty and disadvantage to find employment and housing.
Together, the Society and Aspire will run a recruitment pathway programme which will see individuals take part in a two-week placement at The Midcounties Co-operative's Cowley Centre Food store, where they will shadow colleagues in their roles and receive training and support.
All of Midcounties' colleagues at the Cowley Centre Food Store have received training sessions with Aspire to ensure they have the relevant training and awareness to support the programme, with selected colleagues also receiving advanced online interactive training to help them provide even further mentoring support.
The Society will also work with Aspire throughout the year to develop longer-term work experience opportunities.
Further to this, in the first year of the programme, Midcounties aims to provide at least four of these individuals with permanent employment opportunities either at the Cowley Food store or within other Midcounties' trading sites in the Oxford area.
Paul Roberts, chief executive officer at Aspire Oxford, said: "We are thrilled to be working in partnership with The Midcounties Co-operative on our recruitment pathway programme.
The initiative is a great way for us to help expand the work we already do within the Cowley area and will really help make a difference to those in need of vital work-experience opportunities to help them develop their employability and social development skills."
Phil Ponsonby, chief executive officer at The Midcounties Co-operative said: "Doing the right thing by the people and organisations living within the communities in which we operate is at the heart of everything we do.
We've supported Aspire for a couple of years now and I'm amazed by the unbelievable work they do to help disadvantaged people across Oxfordshire. I'm beyond proud to launch this new programme in partnership with them, and believe it will make a genuine difference to some of those most in need of support and guidance."
For more information on The Midcounties Co-operative and becoming a member, please visit: https://www.midcounties.coop/.