The Midcounties Co-operative Makes Thousands of Hand Sanitisers Available to Its Local Communities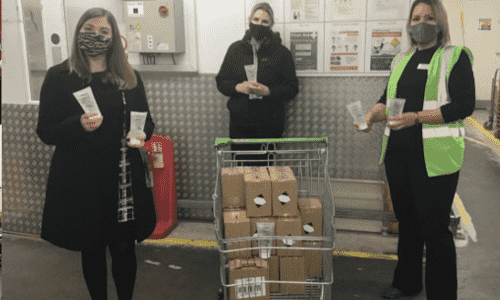 Published 18 Mar 2021 in Society Announcements
The Midcounties Co-operative has distributed 15,600 tubes of hand sanitiser to over a hundred of its Food stores, which will be donated to some of those most in need in its local communities.
Each store team will choose who they give the hand sanitisers to, whether it's their regional community or charity partners, the volunteering groups that help with the Society's home delivery service, and local schools.
Some of those to receive their donation of hand sanitisers include the Botley Food Bank team in Oxfordshire, Bidford Youth Club in Warwickshire, Brendan's Bridge Charity in Gloucestershire, and Pulling Together Ludlow in Shropshire.
The hand sanitiser stock was kindly donated by the DCS Group Ltd who is a seller and distributor of health, beauty and household brands, based in Banbury, Oxford.
Phil Ponsonby, chief executive of The Midcounties Co-operative, said: "Our ongoing commitment to support our local communities means that we have established strong connections to help many of those most in need. We're very grateful for the kind donation from DCS Group Ltd and know that our community and charity partners will really appreciate the gesture to help keep them safe."
Throughout the pandemic, The Midcounties Co-operative has provided a wealth of support to communities, including funding over £40k worth of childcare support for key workers, donating £5,000 worth of smartphones to help vulnerable people access support, and launching a £75,000 Community Restart Fund where charities and community groups could apply for emergency financial support.
The Society also worked with over 1,000 local volunteers to make more than 100,000 free food deliveries to those who have had to self-isolate due to the pandemic.