The Midcounties Co-operative Donates Almost £2,000 to Local Cancer Charity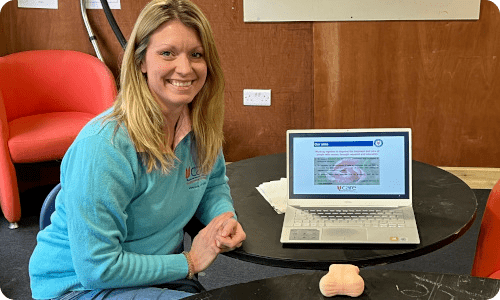 Published 24 Jun 2022 in Community
UCARE has received a £1,900 donation from The Midcounties Co-operative to help fund health and wellbeing sessions for disadvantaged young people.
The Oxfordshire-based cancer charity aims to raise awareness of the causes, prevention and treatment of urological cancers via research and education.
The donation from The Midcounties Co-operative will go towards providing health and wellbeing sessions led by a community nurse to help marginalised young people with the basic tools and knowledge on how to stay well both mentally and physically.
The funding will also provide UCARE with the chance to produce a cancer awareness video that will be used within the sessions that take place.
Approximately 75,000 urological cancers are diagnosed every year in the UK, and in any year, across the country, they cause 22,000 deaths. Yet they still have a low public profile, resulting in symptoms not being recognised, not being taken seriously or simply going unreported because of embarrassment or fear. UCARE is trying to challenge this through awareness campaigns, events, wellbeing sessions and working with local communities.
The donation came as part of the Society's Community Funding support scheme, where it offers up to £2,000 to organisations, charities, and groups to help fund vital projects that make a difference in their local communities
Gemma Crane, lead community nurse at UCARE said: "We're delighted to receive the grant from The Midcounties Co-operative. It has provided us with the vital resources so we can further raise awareness of urological cancer in the communities that we serve.
The work we do is so incredibly vital as early diagnosis really does save lives, and the funding has enabled us to collaborate with more people and communities that really need our input. Thank you so much for making this happen, UCARE appreciate all the support!"
Tarra Simmons, Head of Community and Democratic Engagement at The Midcounties Co-operative, said: "Supporting our local communities is at the heart of everything we do. Our Community Funding scheme is designed to help organisations of all different kinds who are doing their bit to make a difference in their community. UCARE is the perfect example of that, and we're so pleased to have been able to support the amazing work that they do."
The Midcounties Co-operative is one of the largest UK co-operative fully owned by its members. All members have a say in how the Society is run, including the work it does to support local communities in partnership with volunteers and groups. Those who sign up to become a member will also be given access to exclusive deals as well as special offers from across the Your Co-op group of businesses. To find out more information on becoming a member, please visit the website.