Walsall School Children Learn About Plastic Pollution World Ocean Day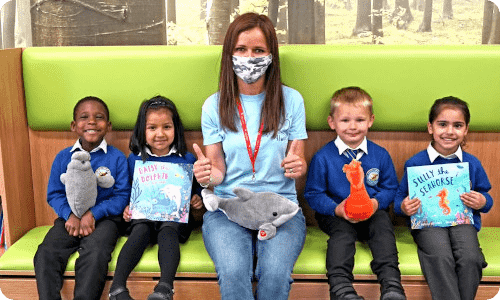 Published 15 Jun 2021 in Community
To celebrate World Ocean Day (8th June), 40 children from North Walsall Primary Academy were treated to a marine-themed storytelling workshop in their brand-new school library from Staffordshire author, Natalie Pritchard.
The children enjoyed a reading of the author's most recent book, Daisy the Dolphin, which aims to teach children about the issues of plastic pollution in our oceans, as well as a Q&A session with Natalie and ocean-themed craft activities.
The storytelling event is one of six being held in local schools in partnership with The Midcounties Co-operative, as part of its commitments to help reduce plastic pollution. The Society has also donated £1,000 to the publication of Natalie's latest book.
Daisy the Dolphin is the latest in Natalie's Sea School Stories series, joining Monty the Manatee and Sully the Seahorse. All of the books are designed to encourage emotional intelligence in children in a fun way, with the first two addressing important social issues from building self-esteem, to learning to take responsibility and being kind to one another.
Natalie Pritchard, author of the Sea School Series, said: "As a mum of two boys, and from my experience working as a primary school teacher, I recognise the value of helping our children deal with every day social and emotional issues that might come their way.
I decided to write these children's books as a tool to address some important life issues and to encourage children to think about how they would deal with a similar situation if it happened to them. It's been really great to work with The Midcounties Co-operative and get back into local schools to deliver these storytelling workshops in person."
Marnie Richards, developing young people co-ordinator at The Midcounties Co-operative said: "As a Society, we're committed to driving change to build a better environment for our future, and educating children from a young age is a really important part of that.
Plastic pollution is a real issue that we all need to work together and tackle. Natalie's book helps to engage children with that really important message in a fun way, and it's our honour to help to get her amazing work published."
The Midcounties Co-operative is the largest UK co-operative fully owned by its members. All members have a say in how the Society is run, including the work it does to support local communities in partnership with local volunteers and community groups. Those who sign up to become a member will also be given access to exclusive deals as well as special offers from across the Your Co-op group of businesses. To find out more information on becoming a member, please visit the website.