The Midcounties Co-operative Donates £1,000 to SYA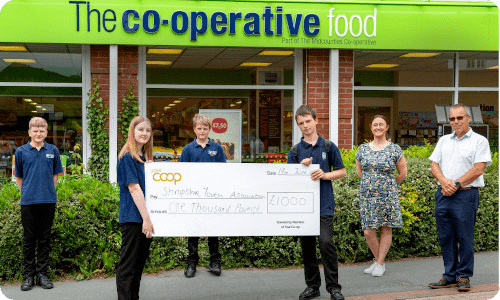 Published 28 Jun 2021 in Community
SYA a charity that is "All about youth" has received a £1,000 donation from The Midcounties Co-operative to help Church Stretton Town Council set up youth club provision in the local area.
SYA supports and delivers youth clubs and youth activities across Shropshire to help physical and mental development in young people by delivering activities like arts and crafts, cooking, games and sports. The charity currently provides vital support and resources to around 100 groups, as well as training to group leaders.
The Midcounties Co-operative has made the donation as part of its continued commitment to support young people.
Richard Parkes, CEO of SYA, said: "It's been really great to work with The Midcounties Co-operative to help Church Stretton Town Council set up a youth programme in the local area.
The kind donation will go a long way in supporting local young people to develop their physical and mental wellbeing while helping them learn different skills that will help them throughout their lives."
Marnie Richards, developing young people co-ordinator at The Midcounties Co-operative said: "As a Society, we're committed to educating and supporting young people, which is why we set up our Young Co-operators Network. Helping organisations like SYA is also so important – especially with many of the vital youth club services having to pause last year with Covid restrictions.
SYA is an amazing cause that supports lots of young people across the Shropshire area. We are really pleased to be able to help them continue with what they do, especially knowing that the donation will be able to provide more young people with the chance to try something new."
The Midcounties Co-operative is one of the largest independent UK co-operatives and is fully owned by its members. All members have a say in how the Society is run, including the work it does to support local communities in partnership with local volunteers and community groups, as well as exclusive member offers.
For more information on becoming a member of The Midcounties Co-operative, please visit the website.