Working with our Volunteer Partners, we celebrate the 50,000th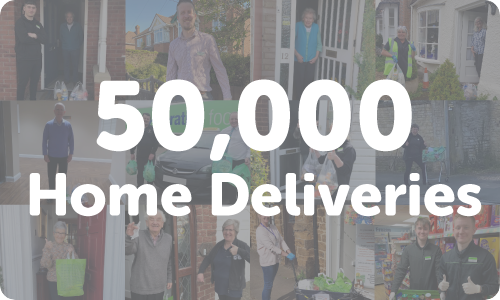 Published 19 Jun 2020
Service was launched from scratch in April, working with local community volunteers to help the most vulnerable

Co-op Midcounties has now expanded the support to include a call and collect service for its members who can leave home but still need to take extra precautions
Co-op Midcounties and local volunteering groups have now made 50,000 essential deliveries to people who are shielding at home during lockdown.
The service was launched in April to support vulnerable people from the local community who were struggling to buy food and other basics because they were staying safe and self-isolating.
An army of 700 volunteers from 100 community groups came forward to make the deliveries and local Co-op Midcounties Food stores introduced new telephone ordering and payment systems to support the scheme.
The 50,000th delivery has now been made by a local volunteer, Helena, to Mrs Pritchard, a 97-year-old from Coleford, who has been a loyal Co-op Midcounties customer for many years.
97-year-old Mrs Pritchard from Coleford receives the 50,000th home delivery from local volunteer Helena
Mrs Pritchard said: "The colleagues and volunteers have been an absolute lifesaver for me through this crisis and I can't thank them enough."
To thank them for supporting our communities, Co-op Midcounties has now sent £10 shopping vouchers to all the volunteers who donated their time to the scheme.
Going forward, from June 22 the service will be extended to include a bigger range of items for delivery and all 230 Co-op Midcounties Food stores will begin offering a new call and collect service for its co-operative members who can now start leaving their homes, but still need to take extra precautions to social distance and stay safe. Home deliveries will continue to be available to members who are still unable to leave the house
Phil Ponsonby, Chief Executive of Co-op Midcounties, said: "This is a remarkable milestone and I am so proud of all the Co-op Midcounties colleagues, members and community volunteers who have helped make it happen.
"This scheme has been a lifeline for those who need it. It's not just about delivering food and other essentials either. It has given many isolated people the opportunity to see a friendly face and enjoy the human interaction that they have missed so much.
"Lockdown has been extremely challenging for us all, but it has also brought out the best in people. As lockdown measures ease, we want to make sure we're continuing to evolve the service to help our most in need members to stay safe, which is why we're now offering the call and collect option.
"This scheme is a fantastic example of communities coming together and reflects the co-operative values that guide everything we do."
Co-op Midcounties Food stores will continue to run a priority shopping hour from 9.30 – 10.30 Monday to Friday for carers of the elderly and vulnerable, as well as NHS workers.
To place an order for collection from your nearest Co-op Midcounties Food store, call 0800 435902. Or to arrange for a delivery to your home, contact your nearest Co-op Midcounties Food store directly.