Co-op Midcounties Reopens Food Bank Fund to Mark Co-op Fortnight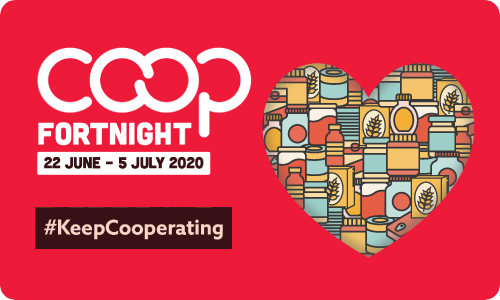 Published 23 Jun 2020
Co-op Midcounties is calling on communities to support their local food banks during Co-op Fortnight by donating to its food bank fund.
The Society opened the fund in March with a £25,000 donation, designed to help food banks put meals on the table for the most vulnerable people in the community. It then called on members and customers to support the initiative with donations, managing to raise a further £15,000 for the fund.
Now the Society is giving the fund a new lease of life in a bid to continue to support food banks still struggling as a result of the pandemic.
The fund supports over 70 food banks, providing them with vouchers to spend on essential supplies in their local Midcounties Co-op Food stores on any supplies they might need.
Co-op Fortnight, which runs from June 24 to July 7, is a celebration of the co-operative values. This year it is calling on people across the community to keep displaying co-operative values, as so many have done throughout the pandemic, and build a better future together.
Phil Ponsonby, chief executive of Co-op Midcounties, said: "During the coronavirus pandemic we've seen communities come together like never before to help each other weather this storm.
"We've been overwhelmed by the generosity of our members, colleagues and customers in, but food banks tell us that demand for their services remains at unprecedented levels and is likely to stay this way for many months to come.
"Food banks have provided vital support to growing numbers of people during this time, but they themselves are facing a funding crisis and have struggled to provide help to everyone who needs it.
"During Co-op Fortnight, we want to harness some of the new co-operation we've seen to keep changing society for the better.
"We know that many people are facing challenges of their own right now, but we're asking those who can afford it to give what they can to support food banks that are working hard to help make sure no one in the community goes hungry."
The food bank fund will provide extra help, over and above the many thousands of product donations already being made by Co-op Midcounties, its members and its customers.
Throughout the pandemic, the Society has also worked with local volunteers to make more than 50,000 deliveries of essential supplies to people who are self-isolating at home, kept nurseries open to provide childcare for NHS staff and key workers, and donated £5,000 worth of smartphones to help vulnerable people access support.
To donate to the Co-op Midcounties food bank fund please visit: https://mid.coop/FoodbankDonation