Midcounties Co-operative Colleagues Raise Money for Life-Saving Community Defibrillators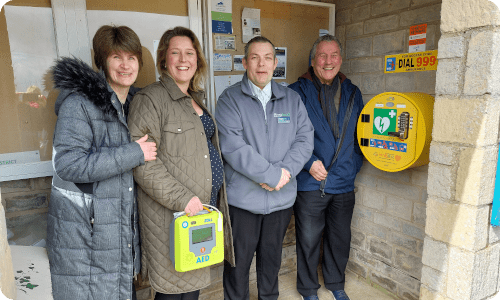 Published 20 Jul 2023 in Community
A colleague from Your Co-op Food store in Moreton-in-Marsh has raised £3500 for Community Heartbeat Trust in order to supply the Cotswold area with more life-saving defibrillators.
Christine Morgan, Team Leader, Moreton in Marsh Coop, has spent the past year diligently fundraising and volunteering with Cotswold Regional Community to raise enough money to supply the rural village of Donnington with their first portable defibrillator, following a community-led request to be considered for funding from Community Heartbeat Trust.
Midcounties Co-operative have been working in partnership with Community Heartbeat Trust (CHBT), the UK's leading provider of community defibrillator solutions, since 2013. Christine is one of many remarkable colleagues and members who have worked hard over the past 10 years helping fundraise to install this life saving equipment.
To date, the partnership has seen the successful installation of 42 defibrillator units across the Your Co-op estate. With each new installation, Midcounties Co-operative provides in-store training workshops for the local community to attend, as well as running regular free online sessions hosted by Community Heartbeat Trust with an aim to create wider awareness.
Your Co-op colleagues undergo regular training through Your Co-op Conversations to make sure essential checks of the defibrillator equipment are made each week. Completing the weekly checks and registering the findings on WebNos (the national database of all community defibrillators), ensures the local ambulance service and community can be certain that the defibrillators are always rescue-ready and able to save lives for many years to come.
However, this has only been possible through the support of Midcounties Co-operative colleagues, members and communities' fundraising efforts.
Christine challenged herself to come up with fun and creative ways to raise money for the charity throughout the past 12 months. Her biggest fundraising challenge took place on April 24th, where Christine and three of her colleagues from Your Co-op Food took a leap of faith and completed a tandem skydive.
As well as raising essential funds, resident and Cotswold Regional Community lead, Stephanie Thorne, worked with Christine to organise Awareness Raising Seminars for the local community both in person at the local village hall and virtually, providing training on how to perform CPR as well as how to use a defibrillator.
Christine Morgan, said: "I have had a fantastic year fundraising and volunteering for the Community Heartbeat Trust. I want to thank everyone that donated and supported me along the way and I am thrilled to have successfully been able to provide Donnington with their first defibrillator. I would recommend to anyone that can to get involved with their local charities and communities."
Member of the Donnington Community who requested support from Christine's fundraising efforts, Stephanie Thorne, said: "I'd like to say a huge thank you to Christine and her Your Co-op Food colleagues, whose fundraising has helped make a potentially lifesaving difference in our community. The work carried out by charities like the Community Heartbeat Trust is extremely important and we're proud to have such devoted members."
All fundraising done by Christine has been supported through Ryan Mumford and Store Manager Kieran Allen from Cotswold Regional Community.
The Midcounties Co-operative is one of the largest UK co-operatives fully owned by its members. All members have a say in how the Society is run, including the work it does to support local communities in partnership with volunteers and groups. Those who sign up to become a member will also be given access to exclusive deals as well as special offers from across the Your Co-op group of businesses. To find out more information on becoming a member, please visit the website.