Colleagues From The Midcounties Co-operative Raise Vital Funds for Local Youth Charity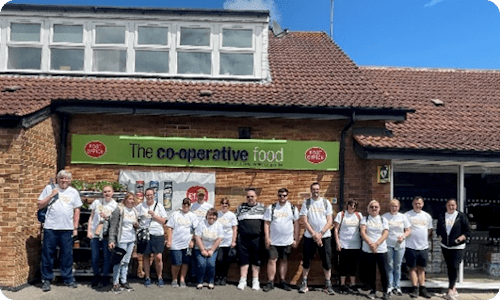 Published 11 Jul 2022 in Community
Colleagues from The Midcounties Co-operative have taken part in a sponsored walk to help raise more than £2,000 for local charity partner, the Aston Project.
On Sunday 19th June, colleagues from eight Your Co-op stores across Gloucestershire, as well as the Society's Cheltenham Your Co-op Travel branch, completed a 13-mile walk - starting and finishing at Wyman's Brook.
The team of 15 colleagues have raised £2,300 between them for the charity, which works with young people aged nine to 17 to help inspire positive futures by supporting them with finding work placements and apprenticeship schemes.
Sarah Blake at the Aston Project said: "We'd like to say a huge thank you to the team at Midcounties, who gave up their time to help raise important funds for us.
Our partnership with The Society has been extremely successful over the past three years and we look forward to continuing to work together. The funds raised will go towards activities for the children for the rest of this year and into next year."
Matt Windridge, Head of Food Markets Supermarkets and Post Office Operation of The Midcounties Co-operative said: "We are so proud of the colleagues coming together to raise money for a great cause. As a Society, we're committed to supporting our local communities and charity partners, like Aston Project, who play such a vital role in many young people's lives across the region. We hope the funds raised go some way in helping them continue with their amazing work."
The Midcounties Co-operative is one of the largest UK co-operatives fully owned by its members. All members have a say in how the Society is run, including the work it does to support local communities in partnership with volunteers and groups. Those who sign up to become a member will also be given access to exclusive deals as well as special offers from across the Your Co-op group of businesses. To find out more information on becoming a member, please visit the website.