The Midcounties Co-operative Announces Significant Investment in Its Little Pioneers Nurseries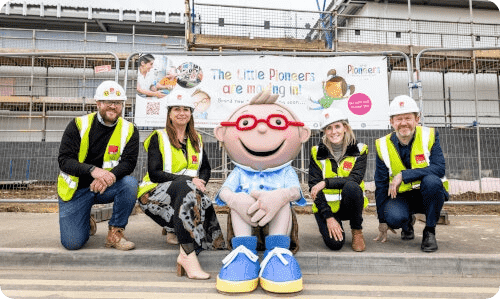 Published 9 Jul 2021 in Society Announcements
The Midcounties Co-operative has confirmed it is investing £1.5million in its childcare business over the next 12 months, with the launch of two new nurseries which will kickstart the Society's plans to double the size of its nursery portfolio over the next five years.
The two nurseries, which will open in Bristol and Cheltenham under the Little Pioneers brand, will take its portfolio to 47 across the UK by the beginning of 2022, with long-term plans to open in even more new communities across the country in the coming years.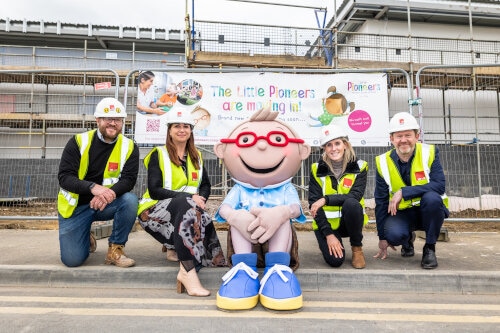 Left to right: Noel Hammett (Hinton Group Construction Director), Sally Bonnar (chief operating officer for the Childcare Group at The Midcounties Co-operative), Little Pioneer Charlie, Emily Sandilands (growth and acquisitions manager at The Midcounties Co-operative), Phil Ponsonby (CEO of The Midcounties Co-operative)
Sally Bonnar, chief operating officer for the Childcare Group at The Midcounties Co-operative said: "Excellent quality childcare has shown just how important it is over the past 18 months. Our nurseries have been so valuable to their communities and the children and parents we support, and we see real opportunity in continuing to grow our portfolio across the country.
£1.5million is a significant investment and will bring two new excellent nurseries for their local areas, but this is just the first step in our journey. Our purpose is to deliver the very best childcare, which has the wellbeing of children and colleagues at its heart, and truly values collaboration with parents.
We're incredibly excited for the future and look forward to bringing our nurturing, caring and rewarding nursery environment to more communities around the UK."
The Midcounties Co-operative, one of the UK's largest independent co-operatives, owns the Little Pioneers portfolio of nurseries nationwide. The Society is committed to delivering the very best quality childcare, with 100% of its team fully trained in paediatric first aid, a diverse programme of education that makes learning fun at every age, and Good and Outstanding Ofsted ratings across all of its nurseries.
Parents at Little Pioneers nurseries can become a member of The Midcounties Co-operative, giving them a say in how it is run and access to exclusive deals as well as special offers from across its Your Co-op group of businesses.
For more information on Little Pioneers, including its new nurseries, visit: www.littlepioneers.coop/