Chief Values Officer, Pete Westall, Named Co-operator of the Year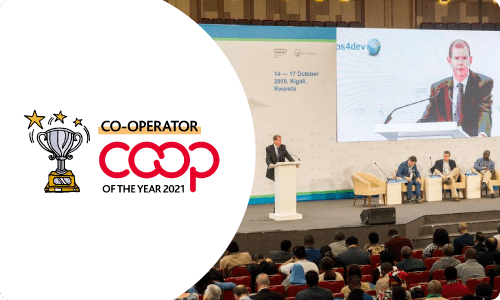 Published 5 Jul 2021 in Society Announcements
Pete Westall, chief values officer for The Midcounties Co-operative, has been named Co-operator of the Year in recognition of his dedication to the co-operative movement.
He was presented with the accolade by the Co-op of the Year awards after receiving several nominations and being handpicked by a judging panel.
Pete has been at The Midcounties Co-operative for more than 30 years, promoting and developing the Society as well as co-operation on a wider scale.
In the past year, Pete has been a leading figure in the co-op movement's response to the Covid-19 pandemic, helping to ensure a coordinated colleague and member response from many different co-op Societies across the UK on a range of different social issues from food poverty to community initiatives.
Pete holds ambassadorial roles at ICA (International Co-operative Alliance) events and works closely with other organisations to bring about social change. He has also taken the lead in the ICETT (International Co-operative Entrepreneurship Think Tank) group to facilitate global sharing of best practice as part of the co-operative response to Covid-19 and to support climate action.
Pete said: "I'm very humbled to have received this award and would like to thank those who nominated me. I've always been a passionate believer in co-operative principles and putting them into action. The events of the past 18 months have shown their value more than ever, and it's down to the collaboration and hard work our amazing colleagues, members and community partners that we were able to make a genuinely positive difference to those that needed our help most."
Phil Ponsonby, chief executive at The Midcounties Co-operative, said: "As a co-operative, our values are at the heart of everything we do and every decision we make and, in Pete, we have a leader who really sets the standard for that. His passion for the co-operative movement and driving positive change in society is second to none, and I personally would like to thank him for the incredible impact that has on our Society and the communities in which we operate."
The Co-op of the Year Awards 2021 are organised by Co-operatives UK – the network for Britain's thousands of co-operative businesses – and sponsored by The Co-operative Bank.
Rose Marley, CEO of Co-operatives UK said: "Huge congratulations to Pete on his well-deserved award. He's an inspirational driving force for the co-op movement, actively championing co-operative values and principles.
Over the past year, he's gone above and beyond to spread the message and the benefits of co-operation on a local, national and global scale, bringing co-ops together to share best practice and support in response to the pandemic."
Catherine Douglas, managing director, SME at The Co-operative Bank: "The Co-operative Bank is delighted to be supporting The Co-op of the Year Awards once again and it's inspirational stories like Pete's that make us even more committed to supporting co-operative businesses."