New Food Market Store Opens in Moreton-in-Marsh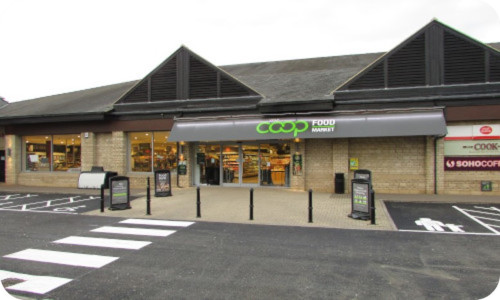 Published 3 Jul 2020
A new Co-op Midcounties Food Market store has opened its doors in Moreton-in-Marsh (Thursday, July 2), with hundreds of products from local producers on the shelves.
The 12,000 sq ft store on the High Street, has a fresh new look after a £320,000 makeover and is also home to a Post Office and the SOHO Coffee Co, selling fresh food and organic Fairtrade coffee.
As well as offering a wide range of grocery essentials, Co-op Midcounties has sourced a remarkable 897 food and drink products from 139 producers from Gloucestershire and neighbouring counties.
The new store, which employs 56 local people, and retained the employment of all colleagues from the smaller co-op in the high street that has since closed, also has a food-to-go offering, a free ATM machine and National Lottery terminal.
Store manager, Mick Toth, said: "Our new look store is now open for business and my colleagues and I are so pleased to be here to serve the local community.
"We're especially proud of the products we've been able to source from some amazing local producers for our The Best of Our Counties range.
"Sourcing from Gloucestershire and its neighbouring counties means we can cut food miles while supporting our local communities.
"It also means our customers know exactly where their food comes from and how it has been produced, providing peace of mind that it is of the highest quality and sustainably sourced."
Co-op Midcounties has been working with its members, colleagues and customers to help local communities recover from the impact of the coronavirus. It established a home delivery service with local volunteers to help the most vulnerable in its communities, and has raised tens of thousands of pounds for local food banks and provided grants to help local community groups affected by the pandemic.
The store is planning further fundraising activities to help the Moreton-in-Marsh community, so watch this space!
The store's opening hours are Monday-Saturday 7am-10pm and Sunday 10am-4pm.