Botley's State of the Art New Co-op Midcounties Food Store Showcases the Best of Oxfordshire Artisans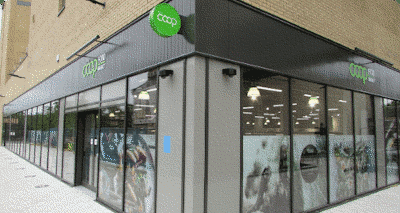 Published 9 Jul 2020
Co-op Midcounties is opening the doors to its brand new £1.6 million eco-friendly Food store in Botley today (Thursday, July 9), with hundreds of products from local producers on the shelves.
The 10,000 sq ft store in Westway Square is a showcase for the region's food and drink industry, with 710 products from 130 local suppliers on the shelves, alongside a wide range of grocery essentials.
Products from Oxfordshire producers include beer from Tap Social Movement, which is a social enterprise employing people who have been through the criminal justice system; premium meats from Aldens Butchers, which also supplies the Houses of Parliament; artisan bread from Hobbs House Bakery; cheeses from Oxford Cheese Co and gin from The Oxford Artisan Distillery.
The store, which will create 10 new jobs, will also be home to a team of in-house experts, on hand to help customers design the perfect menu for any occasion. The team will include cheese expert Rhys Jenkins and wine, beer and cider specialist Damien Mann.
There will be an in-store bakery, a free water dispenser where customers can refill their own bottle, and a self-service deli counter, as well as a branch of Costa Coffee, a National Lottery terminal and a Post Office, which opens from August 4.
The new store will also have a refillable station, designed to reduce single-use plastics by offering customers the opportunity to buy products using a reusable container of their own, or purchased in store. The refillable station will feature up to 27 different foods from Tree of Life – the UK's largest wholesale distributor of healthy, natural and organic products – including nuts, porridge, rice and fruit.
The store has been built to the latest environmental specifications, including state-of-the-art energy-efficient refrigerators.
Co-op Midcounties members will even be able to enjoy a free cup of coffee every time they shop.
Store manager, Donna Hunter, said: "Co-op Midcounties has had a store in Botley for 20 years, but we've been serving the community from a temporary store for the last two years so this site could be redeveloped.
My colleagues and I can't wait to welcome our customers to the new store and I'm sure they will be impressed!
We're especially proud of the products we've been able to source from some amazing local producers in Oxfordshire and its neighbouring counties for our The Best of Our Counties range.
It supports local businesses, helps cut food miles and it means our customers know that the products they are buying are of the highest quality and sustainably sourced."
Co-op Midcounties has been working with its members, colleagues and customers to help local communities recover from the impact of the coronavirus. It established a home delivery service with local volunteers to help the most vulnerable in its communities, and has raised tens of thousands of pounds for local food banks and provided grants to help local community groups affected by the pandemic.
The store is planning further fundraising activities to help the Botley community, so watch this space!
The store's opening hours are Monday to Saturday 7am - 10 pm, and 10am - 4pm on Sundays.