January Heralds Bookings Boost for The Midcounties Co-operative
Midcounties' Travel Group Celebrates Strong Start to 2022 with Bookings up 100 Per Cent Since Testing Announcement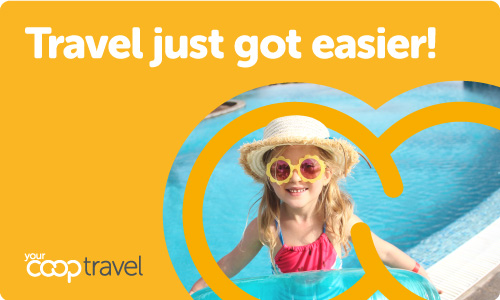 Published 19 Jan 2022 in Society Announcements
The Midcounties Co-operative is celebrating a January boom with bookings across its travel group up more than 100 percent since last week's government announcement on the lifting of Covid-19 testing requirements for travellers.
Overall, net sales for the travel group, which includes 76 Your Co-op Travel high street agencies, 135+ independent agency members of the Co-op Travel Consortium and 165+ Personal Travel Agents, were up 105 percent in the period 9 – 12 January (Sun – Weds) versus the same period the week before the announcement. Sales for homeworking brand, The Personal Travel Agents, were 153 percent up week on week. Half of the travel group's bookings were for summer '22 departures and almost a third were for imminent, winter '21/'22 departures.
A spokesperson for The Midcounties Co-operative, said: "It's wonderful to see the positivity generated by last week's announcement translating into really strong sales for our business. The significant change to the travel rules from our own government last week, coupled with the news that holiday hotspots such France are easing entry requirements for Brits, has inspired confidence in our members and customers and given bookings a welcome boost. The France news has triggered a raft of super late bookings for ski as members and customers hit the slopes for the remainder of the season.
Our dedicated, hard-working and passionate travel advisor colleagues deserve the success they are enjoying right now and long may it continue."
The most popular week for bookings is currently 28 May – 4 June, as members and customers look to take advantage of the two extra bank holidays for the Queen's Jubilee and the school half-term break. The biggest-selling destinations are the Canaries and the Balearics, Turkey, Greece and Croatia, for this summer, and the Canaries, Sri Lanka, New York and Barbados for winter '22/23.
For more information on The Midcounties Co-operative go to www.midcounties.coop.