Make 1Change Your New Year's Resolution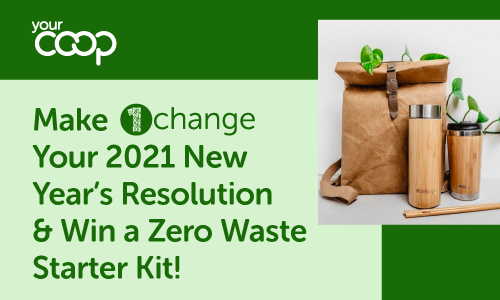 Published 18 Jan 2021 in Society Announcements
The Midcounties Co-operative has launched a new campaign to encourage its members and colleagues to make '1Change' to reduce their carbon footprint as part of their New Year's resolution.
As part of the campaign, people are being asked to work out their current environmental footprint by using WWF's Environmental Footprint Calculator to see how their current carbon footprint is impacting the fight to tackle climate change.
Members are then asked to make one change in 2021 to help reduce their carbon footprint.
Whether it's introducing meat-free alternatives to your diet, reducing food waste, or buying local products, all can have a massive impact on reducing your environmental impact.
Those members who pledge to make a change will be in with the chance of winning a zero-waste starter kit.
Pete Westall, chief values officer at The Midcounties Co-operative, said: "Social responsibility is at the heart of everything we do, and we are proud of the success we have had in reducing our environmental impact so far.
"We know our members care deeply about the environment and we know coming together as a Society we can make a real difference."
The 1Change campaign is part of the Society's aim to tackle climate change and build towards reaching its NET Zero Carbon targets.
To date, The Midcounties Co-operative has reduced energy usage across its operations by 11% over the last five years, which has saved around 5,000 tonnes of CO2 being emitted into the atmosphere.
For more information about the 1Change campaign and how you can get involved, please click here.