The Midcounties Co-operative Members and Customers Help Raise £20K for Food Bank Partners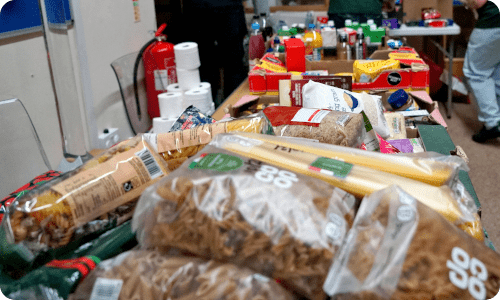 Published 14 Feb 2023 in Community
The generosity of members, customers and colleagues has helped the Midcounties Co-operative raise more than £20,000 to help support its local food bank partners this January.
Despite the ongoing cost-of-living crisis, the impressive total raised across the 229 Your Co-op Food stores via Midcounties' Food Bank Fund throughout December will be distributed equally to each of its 61 foodbank partners at a time when demand for food bank services typically peaks.
As a gesture of good will, customers shopping in store gave monetary donations via till points, as well as dropping essential items into each store's food bank collection boxes.
Larger stores also provided customers the opportunity to purchase a pre-packed bag of produce containing items identified as urgently required by local foodbank partners.
The Midcounties Co-operative's Foodbank Fund was initially launched at the start of the pandemic to help ensure that all those in need could continue to access essential supplies. It has since raised over £100,000 for its foodbank partners across Oxfordshire, Gloucestershire, Buckinghamshire, Shropshire, Staffordshire, the West Midlands, Wiltshire and Worcestershire.
All Your Co-op Food stores also work with Too Good to Go app, to sell discounted 'magic bags' of food to customers that would otherwise go to waste. This Christmas, the stores sold over 3,700 'magic bags' via the app, saving approximately 9.3 tonnes of food.
Tarra Simmons, Head of Community and Democratic Engagement, at The Midcounties Co-operative, said: "We recognise that times are challenging for many across our communities, which is why we are so pleased to have raised a significant amount for our food bank partners. We hope it goes a small way in supporting the vital services that they provide, especially as they face increased pressure and demand at this time of year.
As a co-operative business with ethics at the heart of how we operate, we're fully committed to supporting those in need in our local communities and we'd like to say a huge thank you to all of our members, customers and colleagues who made a donation – either of monetary or product value – to our Food Bank Fund over the Christmas period."
Jen Coleman, chief executive officer at the Black Country Foodbank, said: "We're extremely grateful to The Midcounties Co-operative for its support all year round, but it's especially appreciated in January when we know times can be tough and more people really rely on our services.
A big thank you goes out to anyone who donated, your contributions are massively appreciated and will make a huge difference as we continue working to help the most vulnerable families and individuals in our local community."
To find out more about The Midcounties Co-operative, how they support local communities and becoming a member, please visit: https://www.midcounties.coop/.