The Midcounties Co-operative Launches Foodbank Appeal To Help Support Its Local Communities This Christmas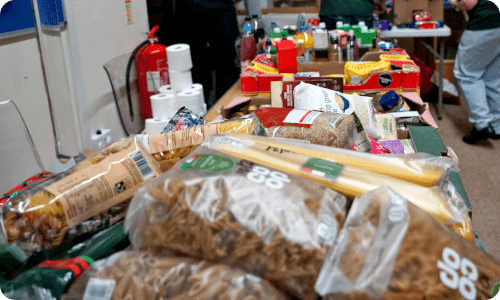 Published 8 Dec 2022 in Community
The Midcounties Co-operative has launched a Christmas Foodbank Appeal, calling on its members and customers to provide vital donations to their local foodbank partners and help those most in need during the festive period.
Each of the Society's 229 Your Co-op Food stores has a collection point for its local foodbank partner, allowing shoppers to drop off a range of essential items needed by families in the local area this Christmas.
The most in demand items range from everyday essentials including tinned fruit and vegetables, pasta sauces, and toiletries to festive favourites such as tinned ham, selection boxes, mince pies and jellies.
During the month of December, customers can also round up their bill at the till to make a small donation to Midcounties' Foodbank Fund, which will be distributed equally to its 62 local foodbank partners in January, when demand for foodbank services typically peaks.
Some larger stores will also provide customers the opportunity to purchase a pre-packed bag of produce that contains items that have been identified as urgently required by the local foodbank partner.
Tarra Simmons, Head of Community and Democratic Engagement at The Midcounties Co-operative, said: "Local foodbanks provide a vital service to communities all year round, but with the rising cost of living, they are expecting to see an unprecedented demand for their services at what is already one of their busiest and most pressured times of the year.
After what's been an especially difficult couple of years, it's never been as important as it is at the moment for local communities to come together to help support those most in need. That's why we're launching our Christmas Foodbank Appeal and calling on all of our members and customers to donate what they can this Christmas."
The Midcounties Co-operative's Foodbank Fund was initially launched at the start of the pandemic to help ensure that all those in need could continue to access essential supplies. It has since raised over £90,000 for its foodbank partners across Oxfordshire, Gloucestershire, Buckinghamshire, Shropshire, Staffordshire, the West Midlands, Wiltshire and Worcestershire.
The Society also encourages its colleagues to volunteer throughout the year at their local foodbank, including over the festive period and into the New Year.
All Your Co-op Food stores also work with Too Good to Go app, to sell discounted 'magic bags' of food to customers that would otherwise go to waste. Last Christmas, the stores sold over 5,000 'magic bags' via the app, saving approximately 5 tonnes of food and helping to feed almost 2,500 households.
To find out more about The Midcounties Co-operative, how they support local communities and becoming a member, please visit: https://www.midcounties.coop/