Local Nurseries Host Pyjama Party To Raise Money for Homelessness Charity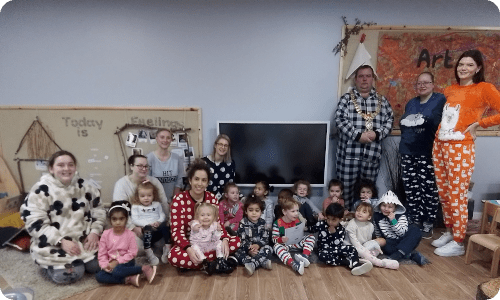 Published 14 Dec 2022 in Community
Local nursery groups 'Little Pioneers', part of The Midcounties Co-operative, based in Leamington Spa and Warwick Gates, hosted a pyjama party to raise money for homeless charity LWS Night Shelter.
The childcare groups invited residents across Leamington Spa to bring a £1 in exchange for wearing their pyjamas to support the homeless charity on Friday 2nd December.
Mayor Nick Wilkins showed his support by visiting the local childcare groups in his pyjamas where staff and children were in their pyjamas for the day. More than £240 was raised between the two nurseries which has been put towards supporting the homeless with essential supplies this winter.
LWS Night Shelter is a local charity that provides hot meals, safe environments and company for the homeless and vulnerably-housed members of the community in Leamington Spa and the wider area.
Leanne Potts, Nursery Manager at Little Pioneers, Warwick Gates, said: "This has been a brilliant initiative for a great cause, which engages the local community to come together to support charities like LWS Night Shelter which in need of support. The children were thrilled to wear their pyjamas to nursery for the day, and it's a fantastic way for the children to understand the benefits of supporting charity and working with the local community from a young age."
Tarra Simmons, Head of Community and Democratic Engagement at The Midcounties Co-operative, said: "As a Co-operative, supporting the local community is core to our values, which is why we are always willing to support initiatives that raise vital funds to improve the lives of those in our local area. As more communities feel the impact of cost-of-living crisis, supporting charities like LWS Night Shelter has never been more important."
Your Co-op Little Pioneers is owned by The Midcounties Co-operative, one of the UK's largest independent co-operatives. Its approach puts children's happiness at the very heart of what they do whilst helping them to fulfil their potential. Little Pioneers also aim to build genuine partnerships with parents, collaborating with them in the decision making and proactively encouraging feedback.
For more information about becoming a member of The Midcounties Co-operative, please visit the website.