Your Co-op Food Store in Steventon Reopens Just Two Months After Fire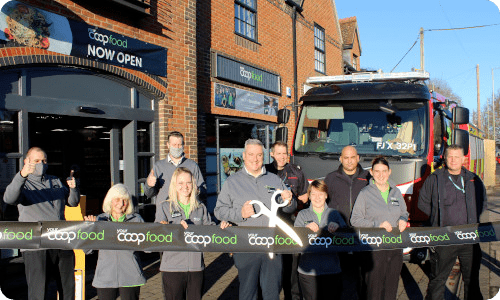 Published 9 Dec 2021 in Store Opening
The Your Co-op Food store in Steventon reopened its doors last week (2nd December) after being damaged in an accidental fire in September this year.
From contractors to store colleagues, every member of the team has worked tirelessly for the past two months to ensure its speedy reopening.
The store was stripped back to the walls with all flooring, ceiling, shelving, fridges and freezers being replaced. It's also reopened with a new layout and range of produce.
The team celebrated its reopening with ribbon cutting and a special visit from Oxfordshire Fire and Rescue who attended to the fire. As a gesture of thanks, a hamper was also presented to the crew by the store manager Lewis Broyd and the store team.
Lewis Broyd, store manager, said: "A massive thank you to all of those who were involved in helping us reopen our Steventon store so quickly. It's been a huge effort and it's been great to hear such positive feedback already on our new layout and product range.
We know our store has been massively missed by our local members and customers, just as much as we've missed them! We're so pleased to be back serving the local community and welcoming them back."
The stores' opening hours will be 7am to 10pm every day throughout the week.
Your Co-op is part of The Midcounties Co-operative, which is one of the largest independent UK co-operatives and is fully owned by its members. Customers at the Steventon store will have the option of becoming a member of the Society, giving them access to exclusive member-only deals as well as special offers from across the Your Co-op group of businesses. Members also have a say in how the Society is run, including the work it does to support local communities in partnership with local volunteers and community groups.
For more information about becoming a member of The Midcounties Co-operative and receiving exclusive member rewards, please visit the website or ask in your local Your Co-op Food store.