The Midcounties Co-operative Donates £2,000 to Rugby Club To Help Improve Local Environment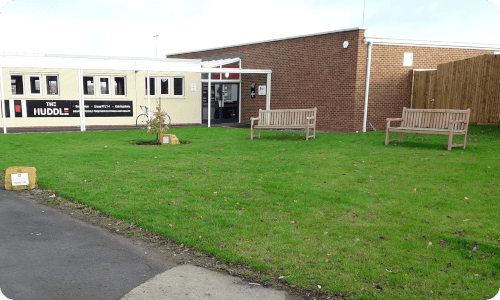 Published 21 Dec 2021 in Community
Cheltenham Rugby Club has received a £2,000 donation from The Midcounties Co-operative to help them transform an area of wasteland at the club.
The donation from the Society was used by the club to help them clear a plot of rubbish and weeds and transform it into a greener space.
So far, the club has planted new trees and created areas for wildflowers to grow to help promote a healthy eco-system and benefit the environment. It has also since attracted swallows that are nesting at the club for the first time.
Cheltenham Rugby Club was founded in 1898 and is now a vibrant sports hub with over ten different sports being played by children and adults aged six to 60.
Steve Ratcliffe, chairman at Cheltenham Rugby Club, said: "I am delighted that The Midcounties Co-operative chose to support our plan to create a space that focuses on the environment. The garden is already attracting new wildlife, which is very exciting.
Many volunteers and young people have been keen to be involved in this project, and it has certainly become a great place for the community to enjoy."
Mike Pickering, co-operative social responsibility manager at The Midcounties Co-operative, said: "Supporting our local communities is at the heart of everything we do.
Our Community Funding scheme is designed to help organisations of all different kinds who are doing their bit to make a difference in their community. The team at Cheltenham Rugby Club have made a great start in creating an incredible space that not only helps the environment but is somewhere for the community to come together. We're so pleased to be able to support the amazing work they are doing."
The Midcounties Co-operative is the largest UK co-operative fully owned by its members. All members have a say in how the Society is run, including the work it does to support local communities in partnership with volunteers and groups. Those who sign up to become a member will also be given access to exclusive deals as well as special offers from across the Your Co-op group of businesses. To find out more information on becoming a member, please visit the website.