Midcounties Co-op Eliminates All Single-Use Plastic Carrier Bags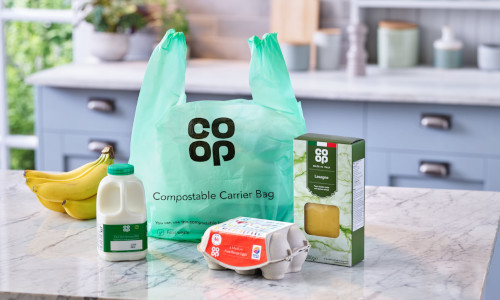 Published 1 Dec 2020 in Society Announcements
The Midcounties Co-operative has today announced that it is no longer selling single-use plastic carrier bags in any of its 225 Food stores, removing eight million from circulation each year.
The removal of single-use plastic bags is part of the Society's commitments to tackle plastic pollution and sees them meet their pledge to do so two months ahead of their original target date.
They have been replaced with fully compostable bags which can also be doubled up to use as liners for food waste bins.
The Society has also confirmed that all profits from the sales of the compostable bags in December will be donated to the Midcounties Co-operative's food bank fund which it has launched to help support local food banks.
Rupert Newman, Chief Retail Officer at The Midcounties Co-operative, said: "Social responsibility is at the heart of everything we do, and we're so pleased to have reached our target of removing all single-use plastic carrier bags ahead of schedule whilst also finding a way to support local food banks.
It's a really important milestone for the Society, but the fight against plastic pollution doesn't stop here. We're committed to keep making change and encouraging our members and customers to work with us to build a better environment for the future, whether that's by simply using a reusable water bottle or coffee cup, carrying a bag for life, or taking the time to join in on local community clean-up activities."
The move to compostable bags is part of The Midcounties Co-operative's 1Change campaign which aims to raise awareness of the issues caused by plastic pollution and encourage members and customers to make more sustainable choices to help reduce their impact on the environment.
Earlier in the year, The Midcounties Co-operative was named Responsible Business Champion 2020 by Business in the Community for its work to remove two tonnes of single-use plastic from its operations.