Younity Launched To Put Community Energy at the Heart of UK Sustainable Power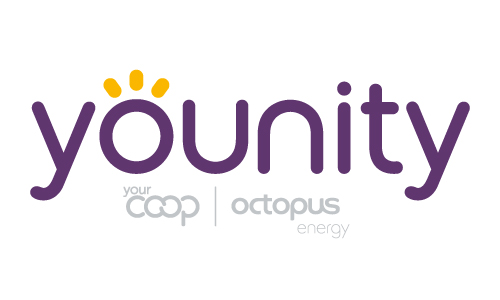 Published 30 Apr 2021 in Society Announcements
Younity will break down the barriers in engaging with community energy and give customers the opportunity to invest in renewable projects.

Research shows more than three quarters of people would switch to a product that supports new build generation through their energy bill.

Joint venture between Midcounties Co-operative and Octopus Energy has partnerships with 100 community energy generators.
The Midcounties Co-operative and green energy provider Octopus Energy have relaunched their community energy joint venture as Younity to further strengthen their focus on working together, putting community energy at the heart of sustainable power in the UK.
Younity will concentrate on breaking down some of the barriers that prevent community energy projects from coming on-stream, whilst inspiring people from all walks of life to become a part of the community energy movement, enabling them to make a direct impact in tackling climate change and building a more sustainable future.
Previously called Co-op Community Energy, Younity is already the largest community energy buyer in the UK, having formed partnerships with 100 community generators. The renewable energy from these partnerships powers 'Your Co-op Energy's Community Power' tariff – the only tariff in the UK that comes solely from the electricity generated by community power projects. The energy generated from these projects has more than doubled in the last six months and is now sufficient to power around 45,000 homes, with the joint venture focused on continuing to grow and support more projects in the future.
To support this work Younity has undertaken research with 2,000 UK energy bill payers to understand attitudes towards renewable energy and barriers to engagement with community energy projects. The research will be included in a soon-to-be-published Energy Insights 2021 report which shows that 75% of people would switch to a product that supports new-build renewable energy generation through their energy bill.
The research shows that regardless of income or age demographics, there is overwhelming concern over climate change with the majority surveyed wishing to take positive action. Younger age groups (16 – 34) have the strongest appetite to make change, but face barriers to support renewable technology, given the relatively low home ownership amongst that group.
Crucially, Younity will help to overcome these barriers by giving everyone the opportunity to have a direct stake in community energy projects across the country. Customers who choose 'Your Co-op Energy's Community Power' tariff will soon have the option of investing directly into new and existing projects through a small addition to their monthly bill – encouraging practical support for community energy for many more people.
The joint venture will also investigate innovative ways to make funding more accessible for community energy projects, while also continuing to provide direct financial support through the Community Power Fund. The fund, which is financed from the Your Co-op Energy Community Power tariff, has already made grants to support the vision and ambitions of six community energy groups across the UK, and will be encouraging more applications through its bi-annual award scheme.
As part of the launch Younity has announced its first photography competition – Powerful Pictures – with community energy groups across the country invited to share images that celebrate diversity and inclusion in the world of community energy. Prizes include 12 months energy supply on the Your Co-op Community Energy tariff and a £1000 donation from Octopus Energy to be donated to a community energy project of choice.
Tom Hoines of Younity said: "If the UK is to achieve its net zero goals, there's an ever-increasing need for new build renewable energy, with an increasing emphasis on everyone to take positive action, from government to industry to communities and individuals.
Under the Younity banner we will be seeking to go even further in supporting new and existing community energy projects across the country. Pivotal to this will be our focus on helping more people to understand the power and importance of community generation projects and inspiring them to make their own contribution to tackling climate change and shaping the future of their local communities."
Lizzie Hieron, Chief Operating Officer, Your Co-op Energy said: "We've long been the leading supporter of community energy in the UK and as part of the Midcounties Co-operative, our members have told us they want us to help them find ways to adopt socially responsible low carbon lifestyles.
Community energy has the potential to play such an important role in the UK's energy future, but to achieve its potential we need to build on the incredible work that pioneers across the country have done in establishing local projects and give more people from all walks of life the incentive and opportunity to play their part. That's why we're so excited by the next stage of the journey with Younity and how we can work with them to ensure that our community power tariff directly supports even greater investment in 100% renewable community generation."
Zoisa North-Bond, CEO of Octopus Energy Generation said: "Community energy projects are a giant leap in the right direction in cleaning up the UK's energy mix and our ability to deliver cheaper, greener energy to UK households.
With Younity, alongside Midcounties Cooperative, we aim to inspire the next generation about all the benefits that this powerful movement encapsulates. It's imperative that we help community energy reach its full potential as it could have a massive positive impact in delivering an abundance of clean energy over the decades to come."
To enter the Powerful Pictures photography competition please add your pictures to Instagram, and tag @Younity_UK and #PowerfulPictures for your chance to win.