Midcounties Co-op and Leamington FC Partner To Support the Community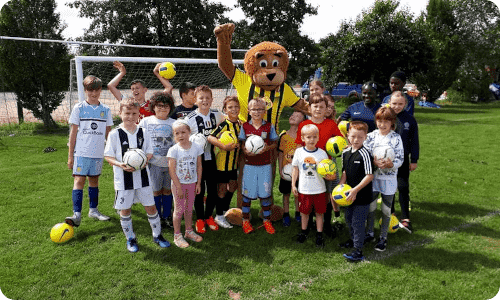 Published 1 Apr 2021 in Community
Leamington Football Club and The Midcounties Co-operative have agreed a new five-year sponsorship deal which will see the Society support the club with its expanding community work.
The Midcounties Co-operative's sponsorship will help Leamington FC's programme of health and wellbeing initiatives, which is designed to motivate, inspire and facilitate local people through sport.
The Leamington FC Community Scheme delivers sports participation, education, health awareness and social inclusion initiatives that aim to both increase awareness of health and wellbeing, and extend opportunities to participate in football and physical activity to people of all ages, regardless of fitness level or ability.
The sponsorship will also see the club's home named as the 'Your Co-op Community Stadium'.
Jim Scott, Leamington FC Chairman, said: "Leamington FC wants to engage with the local community through the power of football and the club brand to provide physical, personal and social development opportunities for people of all ages.
We are very excited that The Midcounties Co-operative has chosen to extend and develop its existing relationship with us, and we look forward to working together to improve the health and wellbeing of the local community. Their values are very much in alignment with those of our club and we see them as a perfect fit."
Phil Ponsonby, chief executive of The Midcounties Co-operative, said: "Supporting our communities continues to be at the core of what we do, and collaborating with other partners in the community is a very important part of this.
Leamington FC's Community Scheme is an example of an excellent initiative that is really trying to drive change in an accessible way and we're very much excited to be a part of this for the next five years."