Take Part in Your AGM and Your Co-op Conversations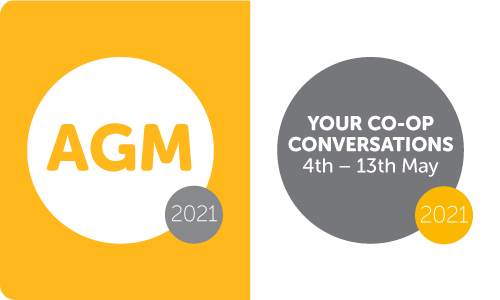 Published 22 Apr 2021 in Society Announcements
Your Co-op AGM 2021
Your Co-op AGM 2021 is taking place Thursday 13th May between 6.30pm - 8.30pm. But that's not all, in the run-up to the big day, this year we are also hosting our dedicated Your Co-op Conversations member forums between 4th-13th May.

A special message from our Society President, Helen Wiseman on the upcoming AGM and Your Co-op Conversations events
Your Co-op Conversations 4 - 13 May

In the lead up to the AGM this year, we introduce Your Co-op Conversations. These individual interactive forums showcase our Values in Action and what our Society stands for.
Each event will provide you with some insights from our partners who will share all the fantastic work they are doing within the Society as well as our Trading Areas serving our members and customers. Make sure you sign up to find out more!
From our fantastic local suppliers to the Young Co-operators within Midcounties, you have the chance to learn about them and ask your own questions.