Co-op Women's Voices With Our President, Helen Wiseman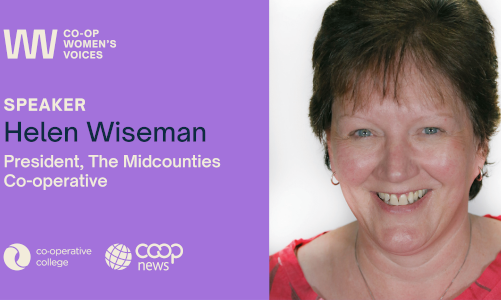 Published 13 Apr 2021 in Society Announcements
Join us online for a conversation with Helen Wiseman, president of the Midcounties Co-operative, on Tuesday 20 April 2021 @2-3pm
Hosted by Rebecca Harvey (Co-op News) and Sarah Alldred (Co-op College), the event will see Helen talk about all things women, co-operatives, and women in co-ops, and her journey to becoming president of one of the largest independent retail societies in the UK!
During the event they will be covering:
What is her story?

Who are the women who have inspired her?

What has it been like being a woman in the places she has lived and worked?
Co-op Women's Voices is a joint project, developed between Co-op News and the Co-operative College – a series of monthly conversations with inspiring women in the global co-operative community.
All welcome - to register your interest in this event, please click here.
Please note - You will receive a link to the Zoom meeting on the morning of the event.