The Midcounties Co-operative Donates £1,000 to Local Mother and Toddler Group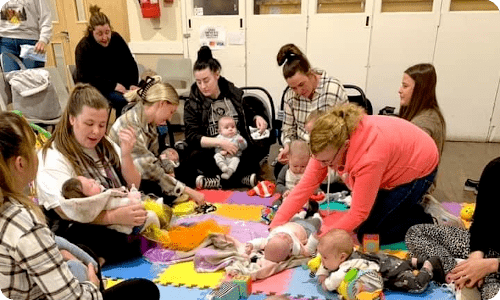 Published 28 Nov 2022 in Community
Polesworth's much loved Mother and Toddler Group that closed last winter has been reintroduced in Polesworth Memorial Hall after receiving a £1,000 donation from the Midcounties Co-operative.
The group, which had been run by volunteers in the hall for over 50 years, closed in December 2021, leaving the community without a meeting point for parents and carers.
The donation from the Midcounties Co-operative has allowed volunteers to invest in educational and environmentally friendly toys to help re-establish the group, called Polesworth Play and Explore, in the village hall.
Sessions run every Monday at Polesworth Memorial Hall from 9:30 to 12:00 for £2 per child, the lowest fee in the area. Parents with children up to five years old are welcome to come and explore their activities and resources.
The donation came as part of The Midcounties Co-operative's Community Funding support scheme which offers grants to organisations, charities and groups, to help fund vital projects that make a difference in their local communities.
Elaine Blewitt, volunteer at Polesworth Play and Explore, said: "My children used to go to the Mother and Toddler group when they were little, and when they had their own children, we would take them there too, so I was devasted to hear of it closing. It was such an important place for the community, that I knew we had to restart the group.
The donation from Midcounties Co-operative helped us turn this goal into a reality, which enabled us to buy all the supplies we needed to get going. Since re-opening, the group has been hugely popular, but we always welcome new faces!"
Tarra Simmons, Head of Community and Democratic Engagement at The Midcounties Co-operative, said: "Supporting our local communities is at the heart of everything we do. Our Community Funding scheme is designed to help organisations of all different kinds who are doing their bit to make a difference in their community. Polesworth's Mother and Toddler Group is a prime example of that, and we're so pleased to have been able to support the amazing work that they do."
The Midcounties Co-operative is one of the largest UK co-operatives fully owned by its members. All members have a say in how the Society is run, including the work it does to support local communities in partnership with volunteers and groups. Those who sign up to become a member will also be given access to exclusive deals as well as special offers from across the Your Co-op group of businesses. To find out more information on becoming a member, please visit the website.
Find out more about Polesworth Play and Explore on their Facebook page: https://m.facebook.com/PolesworthplayandExplore/