UK Co-ops Ask the Government To Demand More of Business on Climate Action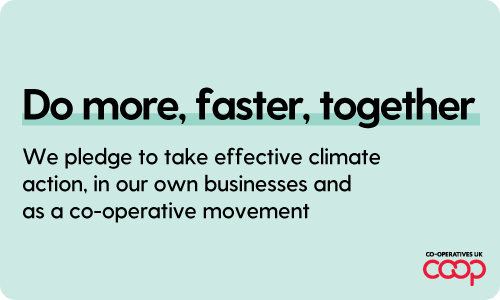 Published 25 Oct 2021 in Society Announcements
The UK's co-operative sector, which contributes £40 billion to the economy, today calls on the government to demand more from businesses to address the climate emergency, ahead of the COP26 climate summit in Glasgow next week.
In a joint declaration backed by leading co-op retailers including The Co-op Group, the sector calls for governments, businesses, communities and individuals to take effective action to avert a climate catastrophe, with a particular emphasis on the role of businesses large and small.
"Because we are co-operatives, we are striving to do what is required. But we are tired of being undercut by competitors on environmental and ethical standards. This has to stop. It's not fair to punish those who are taking action - whilst other businesses put profit over planet." says the statement.
A report* released today reveals that two thirds (66%) of member owned businesses are taking action to reduce carbon emissions, and of those taking action one in five have net zero targets, but business must do more.
Rose Marley, CEO of Co-operatives UK, the trade body who co-ordinated the declaration and report on behalf of the sector, said, "Co-ops are businesses owned by our members who live in the communities we serve, but our communities are under grave threat. We urge all governments, businesses, communities and individuals to take effective action now to avert a climate catastrophe.
Governments have an instrumental role to play in requiring more of business. But they also need to make it easier and simpler for businesses to act."
In a joint declaration on behalf of the sector, co-operative businesses are calling on the UK government to:
Provide leadership and make interventions to ensure a level playing field that enables, encourages and incentivises all businesses to take urgent action to achieve net zero
Make end-to-end carbon footprint reporting mandatory for all large businesses
Simplify the complex landscape of environmental metrics, reporting standards, regulations and guidance to make it easier for all businesses to take effective climate action
Ensure all businesses can access comprehensive advice and support to help them develop and implement effective strategies for reducing and eliminating emissions. Support must include paid-for and subsided advice, grants and green enterprise finance schemes, starting with the adequate provision in the UK Shared Prosperity Fund
Start harnessing the power of community and co-operative action as enablers in net zero strategies where there are societal and behavioural challenges, including energy usage, home retrofit and low carbon consumption, with BEIS and DEFRA adopting high-level cross-cutting policy
Provide global leadership for a just transition, ensuring everyone makes a fair contribution and the poor and vulnerable are supported and empowered, including by supporting UK businesses to invest in climate resilience and a just transition in their global supply chains.
Across the UK, co-ops are employing a range of different approaches to reduce carbon emissions. These range from switching to renewable energy sources, making greater use of energy-efficient technologies, offsetting carbon emissions and embracing greener transportation.
And this action is led from the top, with a number of leading co-operatives, including The Co-op Group and The Midcounties Co-operative linking executive remuneration to the achievement of their ambitious carbon reduction targets. Southern Co-operative's net zero plans have been assessed by the Science Based Target's Initiative, as have those of The Co-op Group.
A growing number of co-ops are reducing their reliance on fossil fuel energy in favour of renewable sources. In a joint venture with Octopus Energy, The Midcounties co-op has agreements with around a hundred community energy groups, guaranteeing a fair price for generated electricity and helping ensure long term energy security. Other co-operatives, like ground-breaking sustainable energy co-operative Co-Pilot Wind Project in Wales, are working to help more people switch to green energy through co-ownership of a wind farm.
Many co-ops have made investments in technology to conserve energy such as Central England Co-operative, which has reduced its refrigeration gas emissions by 69% since 2010 and East of England Co-op whose investment in upgrading refrigeration units has been a significant factor in a 25% year-on-year reduction of CO2e emissions.
West Yorkshire-based, Suma Wholefoods, one of Europe's largest worker co-ops is currently carbon neutral through procurement of 100% renewable energy and offsetting any other emissions that they create. Greener transport is being introduced by worker co-op Green City Wholefoods in Glasgow who are trialling deliveries by electric trike.
Co-ops are businesses owned and controlled by their members. There are 7,237 independent co-ops operate across the UK, ranging from high-street retailers to farmer-owned businesses, community sports clubs and web developers."
- Ends –
Note to editors
Contact, for interviews with Rose Marley, CEO of Co-operatives UK, case studies or more information, contact Dominic Mills on 0161 216 1767 /07804 152208.
*A race to net-zero: The role of co-ops in driving climate action post-COP26 published by trade body Co-operatives UK reviews the top 100 largest co-ops by turnover and include the results of an online survey completed by 88 SME co-ops.
Read the declaration made today on behalf of the sector and the research report which outlines the climate action that the UK's co-ops are taking at www.uk.coop/COP26
Co-operatives UK is the network for thousands of co-operatives. Together we work to promote, develop and unite member-owned businesses across the economy. From high street retailers to community owned pubs, fan owned football clubs to farmer controlled businesses, co-operatives are everywhere and together they are worth £39.7 billion to the British economy www.uk.coop