Midcounties Outlines Investment Plans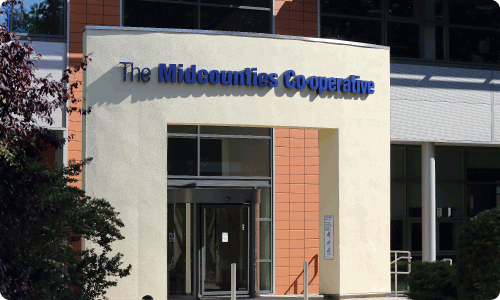 Published 28 Jun 2021 in Society Announcements
MIDCOUNTIES CO-OPERATIVE OUTLINES ONGOING INVESTMENT PLANS
The Midcounties Co-operative has confirmed that a brand new Your Co-op Food Store opening on Thursday 16th June in Bream Gloucestershire marks the latest stage of its on-going investment programme. The opening brings the total number of new food stores opened in 2021 to six – an investment of over £3 million in 2021 which has also created more than 100 new jobs.
Midcounties is one of the largest independent co-operative societies in the UK, with over 720,000 members and almost 8,000 colleagues. It operates the Your Co-op family of businesses which spans Food, Childcare, Travel, Utilities and Healthcare. In February 2021, the Society was named as the Business of the Year at the edie 2021 Sustainability Leaders Awards in recognition of its work to create a sustainable future and support local communities.
In addition to the food store openings, the Society has also confirmed that two new Your Co-op Childcare nurseries will open in Cheltenham Park and Emerson Green, Bristol, later this year – a further investment of £1.5m in the Society's multi-award-winning national childcare business.
These investments are just the start of the Society's ambitious growth plans, which will see it double the size of its childcare business over the next 5 years, open 50 new food stores and continue to build on its leading community Energy offering, while also significantly investing in new digital services across its trading groups.
The Society has also invested significantly in its Travel business recently with the acquisition of 23 branches from Carrick Travel and Central England Co-operative, taking the Society's travel branch network to 78 in addition to its online service.
Phil Ponsonby, Group Chief Executive of The Midcounties Co-operative, said: "The opening of the new food store in Bream marks the culmination of this stage of our investment plans and we're excited about accelerating our investment further in 2022 and beyond.
"The business challenges posed by the pandemic are well known, but as a diverse and robust business, we are able to continue to make significant strategic investments in our core businesses, leaving us well placed for future growth.
"However, as an ethical and values-driven society, we always seek to strike the right balance between delivering profits for our members and fulfilling our purpose of creating a better, fairer world and enhancing the lives of our colleagues, members, customers, and the communities we serve.
"Our values will therefore continue to be at the heart of the investment decisions we make, and we know that by continuing to grow our business we can make a positive difference – creating jobs, delivering value for our members and customers, and supporting the communities where we operate."