The Midcounties Co-operative Invests £1.2 Million in North East Nurseries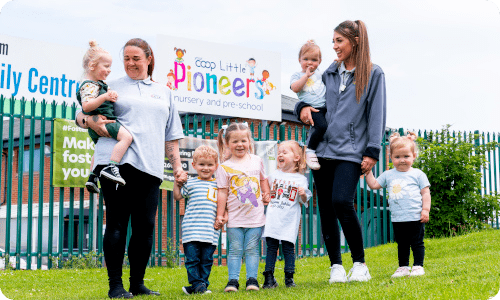 Published 1 Jul 2022 in Society Announcements
The Midcounties Co-operative has announced it is investing almost £1.2 million in redeveloping its six nurseries across the North East.
The investment will see the nurseries designed with separate rooms that have a stimulating and tailored environment for each age group to support their learning and development in a fun and inspiring way. Children will be able to freely explore and play with natural resources such as loose parts, recycling materials and everyday objects that help to build new skills and provoke imagination and curiosity.
There are also garden areas for outdoor play and learning across all sites, as well as designated parent rooms, buggy stores and free on-site parking for easy pick-ups and drop-offs. Nursery fees will include all nappies, wipes, and nutritious snacks and meals throughout the day.
The six nurseries include Hetton, Seaham, Newcastle, Newbiggin, Newburn and Tavistock, which will now all sit under the Little Pioneers branding and have all been rated good or outstanding by Ofsted.
Tavistock is the latest nursery to undergo the development, with Newburn set to be transformed in September this year.
The investment will also go towards providing essential training for colleagues, new uniforms, and refurbishments to all staff rooms across the six sites.
Little Pioneers is owned by The Midcounties Co-operative, one of the UK's largest independent co-operatives. Its approach puts children's happiness at the very heart of what they do whilst helping them to fulfil their potential. Little Pioneers also aim to build genuine partnerships with parents, collaborating with them in the decision making and proactively encouraging feedback.
The nursery group is multi-award winning, and all the nurseries are Green Flag Accredited and have Eco-Schools Silver status as a minimum, which recognises their efforts to empower children to understand and take responsibility for their environmental impact. It also has a 9.8/10 rating from parents*.
Sally Bonnar, chief operating officer for the Childcare Group at The Midcounties Co-operative said: "We are investing significantly across our nurseries in the North East as part of our commitment to providing childcare with a difference and nurturing all our children to become kinder, caring members of their communities.
The nurseries that have already been transformed look amazing and our colleagues and our children love them. I can't wait to see this roll out to our wider portfolio of nurseries in the near future."
The Midcounties Co-operative has a total of 47 nurseries across the UK, and aims to double the size of its nursery portfolio over the next few years.
Little Pioneers hosted its open days across its six North East sites on 25th June which welcomed 84 families across all the sites.
For more information on Little Pioneers, including the new nurseries and any job vacancies, visit: www.littlepioneers.coop/