The Midcounities Co-operative Helps To Provide Over £100K of Support for India COVID Crisis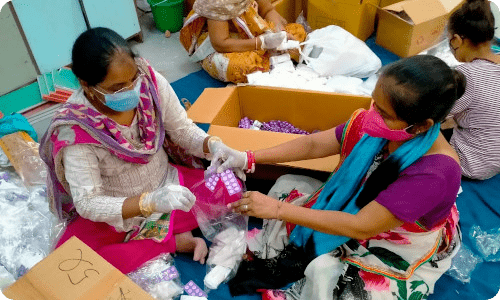 Published 3 Jul 2021 in Society Announcements
The Midcounties Co-operative has joined forces with retail co-operatives across the UK to donate more than £100,000 to help tackle the devastating impact of Covid-19 in India.
The funds have helped to provide much needed emergency supplies to co-ops and communities in the country, including masks, paracetamol, and oxygen, as well as share lifesaving information about the symptoms and spread of Covid to families in rural and low income urban areas – helping to dispel myths and provide accurate health information.
The money will also be used to support several Indian co-operatives restarting their businesses following the country's lockdown, buying raw materials and re-establishing market links.
The donation has been made by UK co-operatives via SEWA, the Co-operative Federation in India which works with 106 women's co-ops, enabling them to provide a sustainable livelihood for female workers. SEWA was founded in 1972 by Ela Bhatt, also the inspiration behind the name of one of Co-op Childcare's little pioneers, who encourages children to make their own choices, express their feelings and make a difference in the world.
The emergency response was co-ordinated by Co-operatives UK and the Co-operative College, who worked together as part of the International Working Group to collect and co-ordinate the donations from The Co-op Group, Midcounties Co-op, Central England Co-op, Scotmid, Lincolnshire Co-op, Southern Co-op, East of England Co-op, Channel Islands Co-op, Chelmsford Star Co-op, Heart of England Co-op and Co-op News.
The Midcounties Co-operative made a contribution of £10,000.
Pete Westall, chief values officer at The Midcounties Co-operative, said: "This response demonstrates our co-operative values in action, and I'm delighted to hear of the positive impact it is already having on communities in India. By working hand-in-hand with co-operatives across the UK and in partnership with SEWA, we have been able to provide significant sustainable support to some of those most in need and make a real genuine difference."
Mirai Chatterjee, Chairperson, SEWA Cooperative Federation said: "We would like to thank you for the solidarity of the co-operative spirit in action. We are very happy to be your partners in the rebuild. The situation in India is thankfully slowly improving and we are seeing a reduction in cases in the urban areas, although we are less sure about the rural areas as the data is sparse.
Our country is now slowly coming out of the health emergency, but we are now staring in the face of a huge livelihood and humanitarian crisis. Workers and families have been busy with the health emergency but now they are extremely anxious about how they can restore their livelihoods and that's where your contribution and your support to us has been critical."
Rose Marley, CEO of Co-operatives UK said: "This is true co-operation in action, with some of the largest co-ops in the UK collaborating to provide financial support and solidarity to co-ops on the other side of the world. Our global co-operative movement is based on values and principles that are as strong today as they ever were. It's fitting that we are sharing news of the impact of this donation on International Day of Co-operatives, which has a theme of Rebuild Better Together, which is exactly what this support will help to do."
The Midcounties Co-operative has launched a number of initiatives throughout the coronavirus pandemic to support its communities. It founded a £75,000 Community Restart Fund for groups and charities that needed emergency financial support, raised more than £50k for local food banks, provided over £40k worth of childcare support to NHS key workers and donated £5,000 worth of smartphones to help vulnerable people access support. The Society also worked with over 1,000 local volunteers to make more than 120,000 free food deliveries to the vulnerable who had to self-isolate.
Watch this video on how the donations have helped the crisis in India below: