Co-op Midcounties calls for VAT to be scrapped on Sunscreen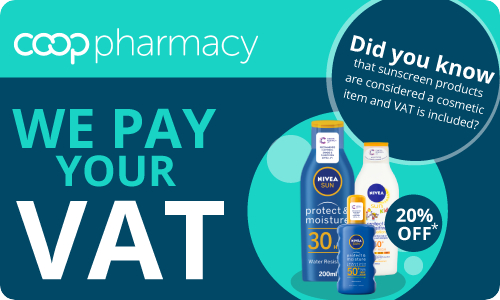 Published 6 Jul 2020
Co-op Midcounties is calling on the government to help people protect themselves from the potentially harmful effects of the sun by removing VAT from sunscreen products.
Sunscreen is currently classified in the UK as a "cosmetic product". However, Cancer Research UK state that getting sunburnt just once every two years can triple the risk of melanoma skin cancer, and that melanoma skin cancer incidence rates have more than doubled (135%) in the UK since the early 1990s.
Co-op Midcounties has therefore written to the government asking for sunscreen to be reclassified as an essential healthcare item, which would allow it to be VAT exempt. The average bottle of sunscreen costs £5-£7, with around £1.50 of this being the VAT charge applied.
Removing VAT from these essential items will therefore play a significant part in making sunscreen more affordable and encouraging more people to protect themselves from the potentially harmful effects of too much sun.
In order to help reduce the costs for customers now, Co-op Midcounties has cut the price of sunscreen, available at the Co-op Pharmacy online and in retail stores, by 20% - effectively paying the VAT for customers. They are also asking everyone to help raise awareness of this issue and encourage the government to take action by signing a petition and writing to their MP.
The campaign has enlisted the support of GP and TV medic Dr Hilary Jones to help make the case for action. Dr Jones said: "Sunscreen is a really important medical product that prevents against the risk of skin cancer. I fully support the Co-op Midcounties campaign and it's important that we get Ministers interested in removing VAT from sunscreen. There is a wide consensus of doctors, skin specialists, dermatologists and cancer specialists who would agree that sunscreen should be reclassified as a healthcare product."
Co-op Midcounties Chief Executive Phil Ponsonby said: "Sunscreen is an essential healthcare product and we don't think it's right or fair that it should incur VAT. We need to do everything we can to make it as affordable as possible, and we're therefore asking people to join our campaign, write to their MP and make a change that will help to reduce the risk of skin cancer for everyone."
More details on the campaign and how you can write to your MP can be found at: https://shop.cooppharmacy.coop/sunscreen/.
The petition can be signed here