The Midcounties Co-operative Shortlisted for Leading Co-op of the Year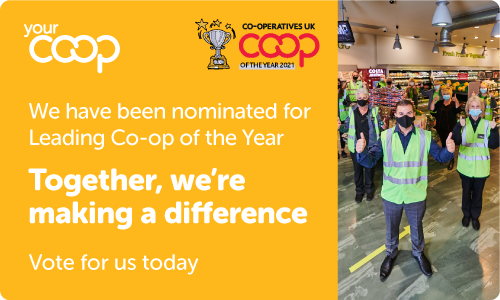 Published 21 Apr 2021 in Society Announcements
We're proud to announce that we've been shortlisted for the 'Leading Co-op of the Year' award in this year's Co-op of the Year Awards, which is testament of the incredible work of our colleagues and members in supporting our communities over the past year.
The Co-op of the Year Awards are run by Co-operatives UK and celebrate the power of co-operation, and the contribution of co-operative enterprises across the UK.
While we are thrilled just to be nominated, of course we want to win and that means we need your votes!
The importance of co-operation has been more apparent than ever over the past year. We've all faced incredible challenges but through working together have been able to make a positive difference and every part of our Society has gone above and beyond in supporting the communities in which we operate.
At the start of the pandemic, we launched our Food Bank Fund which has since raised over £50,000 for our 70 food bank partners. We've now also made over 120,000 home deliveries and extended this service until June to continue to ensure that all those in need in our local communities can access essential supplies.
We've also funded over £40,000 worth of childcare support for key workers, donated £5,000 worth of smartphones to help vulnerable people access support, and launched a £75,000 Community Restart Fund where our 36 charities and community groups could apply for emergency financial support.
Phil Ponsonby, chief executive at The Midcounties Co-operative, said: "We're beyond proud to be up for the 'Leading Co-op of the Year' award but we absolutely couldn't have done this without the amazing support of our colleagues, customers, members and volunteers.
"It's been their approach to come together in such a selfless and supportive way that has helped us to make a difference, and I cannot thank them enough."
Please help us to celebrate what we have been able to achieve together by voting for us in the 'Leading Co-op of the Year' category here: https://www.uk.coop/vote.