This year, COP26 was hosted by the UK, in Glasgow, in November. This was a particularly important COP because, as well as being widely regarded as the most pivotal point yet in our need to stop runaway climate change, it marks 5 years since the Paris Agreement - the agreed time when those commitments must be reviewed and updated.
You can find out about the outcomes and agreements from COP by clicking here.
What is the Paris Agreement?
This was a unique commitment by all attending parties at COP21 in Paris in 2015 to limit global heating to 1.5 degrees, and make funds available to tackle this global issue. Why is this important? We're already starting to see the effects that warming our planet is having - floods, fires and melting ice caps are just the tip of the iceberg.
Global heating has severe implications for human health from loss of livelihoods to death of some of the most vulnerable people around the globe, many of whom live in nations with some of the lowest carbon emissions. This is a global humanitarian crisis as well as an ecological one.
Much of the discussion around climate change is understandably focused on carbon emissions, which is without doubt one of the main drivers of our changing climate. However nature and biodiversity loss also have a vital role to play, and our planet's ecosystems are threatened by over-exploitation and destruction.
Healthy ecosystems are responsible for the oxygen we breathe, the food we eat and for helping to mitigate climate change, so we really cannot discuss one without the other. We need nature in order to live on this planet - protecting it is paramount alongside reducing our global carbon emissions. We have to look at our relationship with, and impact on, the planet as a whole.
What are we doing?
We all have the ability to help limit our impact on the planet. Moreover, companies and governments have a responsibility to tackle these global issues locally, and have even more of an ability to leave a positive legacy.
Sustainability is a subject very close to us, core to the values that drive operations, and for years we have been taking action to limit our impact on the environment, in line with UN sustainable development goals.
You can find out more about our climate action strategy, achievements so far and examples of how we're making a difference in our local communities, in our Climate Action Report 2021 by clicking here.
Working with other Co-ops to take climate action
Ahead of the COP26, we joined together with co-ops from across the UK to call on the government to demand more from businesses to address the climate emergency,
In a joint declaration backed by leading co-op retailers, we're calling for governments, businesses, communities and individuals to take effective action to avert a climate catastrophe, with a particular emphasis on the role of businesses large and small.
Click here to read the full statement.
Glasgow Declaration on Climate Action in Tourism
We have signed a declaration for Travel businesses to 'cut tourism emissions to at least in half over the next decade and reach Net Zero emissions as soon as possible before 2050'. This is in line with our Society's ambitions to achieve Net Zero emissions.
The declaration has been developed by UNWTO, UNEP, VisitScotland, Tourism Declares, and the Travel Foundation, and wasmade available for travel companies to sign ahead of COP 26.
Click here to find out more.
We strive to influence climate action through our co-operative and business networks and to support the UN's Sustainable Development Goals. This includes our work with the International Co-operative Entrepreneurship Think Tank (ICETT) and Euro Co-op. For example, our Chief Values Officer, Pete Westall, moderated a global webinar, in the lead-up to World Environment Day, earlier this year through ICETT entitled 'Cooperatives for an Environmentally Just Future'. The event brought co-ops of all sizes together, to share best practice and discuss collaboration opportunities. Following on from this event we aim to work with these other Co-ops around the world and beyond to influence climate action.
We have also pledged our support for the EU Code of Conduct on Responsible Business, through our involvement with Euro Co-op. Through the code we have committed to reduce our greenhouse gas emissions and reduce our waste footprint, as well as engaging with our members to take climate action through our '1Change' programme.
1Change & Cal Major
As the founder of Paddle Against Plastic, environmentalist Cal Major has seen the damage caused by single-use plastics first-hand. We've been working with Cal for the last few years to spread the word about plastic pollution and share the things we can all be doing to tackle the problem. In the lead-up, and throughout COP26 we worked with Cal to raise awareness around COP26 and the important role we can all play in making a difference. To learn more about our 1Change campaign with Cal Major please click here.
How Can You Make a Difference?
Every small change we make as individuals can make a big difference in helping to reduce our impact on the environment as a whole!
Here's our 10 top tips to help you make a difference in your day-to-day life...
Rather than driving, walk or cycle where you can

Reduce the amount of waste you produce by only buying what you intend to use

Reuse something to last longer like bottles, containers, straws or glass jars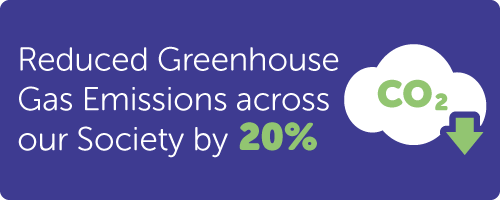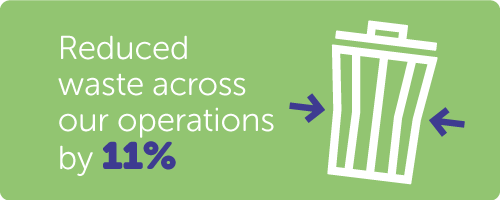 Achieving Eco School Status in Our Nurseries
At Little Pioneers, we're serious about our commitment to protecting the world around us, this is why all of our nurseries have now achieved their green flag eco-school status (the highest award), which gives children the opportunity to take responsibility for their environmental impact.
The Eco-Schools Initiative is a global campaign run by the environmental charity Keep Britain Tidy, whose aim is to instil a lifelong understanding of environmental learning and action. Simply put, Eco-Schools is child-led, working towards sustainability and being environmentally friendly.
At little Pioneers, we value our environment, and in order to keep our earth safe and healthy for our children, we closely monitor the management of our waste and its disposal in accordance with local authority requirements. As Early Years Practitioners, we have an important role to play in fighting the battle against unnecessary plastics. Leading by example, we can help children to make better choices that they will use throughout their lives. We want to help our community and we do this by taking part in litter picking activities in the local community as well as teaching our children about the ways in which they help keep their community clean and care for the world. Eco-Schools empowers children, raises environmental awareness, improves the nursery environment, engages the wider local community, links to the curriculum, and helps deliver better outcomes and choices for children.
To find out more about the seven-step Eco school framework and how all our nurseries help care for the environment please click here.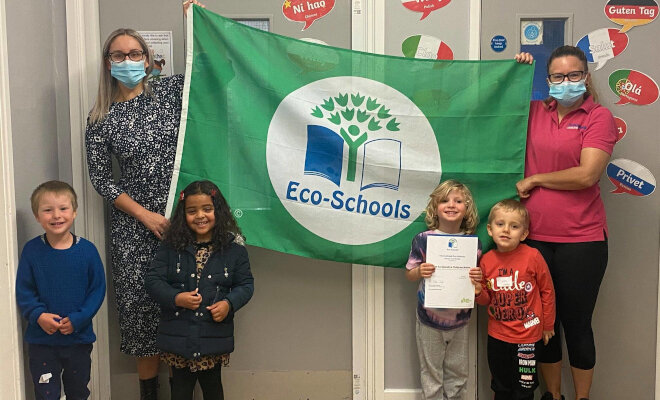 Recycling Soft Plastics
In 2021, we rolled out soft plastic collection points in over 200 of our Your Co-op Foodstores, making all Co-op branded packaging now 100% widely recyclable!
These collection points will help our members, customers, and colleagues recycle problem materials, including bread bags, lids from ready meals, biscuit wrappers, and wrappers from pet food.
Most UK councils are unable or unlikely to collect soft plastics, so the in-store collection points help dispose of these materials easily.
Find your nearest soft plastic collection point by clicking here.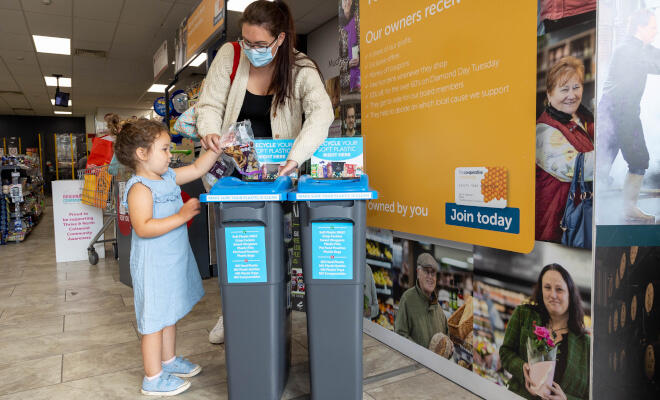 Eliminating Single-Use Plastic Bags from Our Food Stores
Single-use plastic carrier bags are a huge contributor to plastic pollution, and that's why we've replaced all bags in Your Co-op Food stores with environmentally-friendly compostable bags.
These bags can also be doubled-up as bin liners for food waste bins.
This change has removed eight million single-use plastic bags from circulation each year!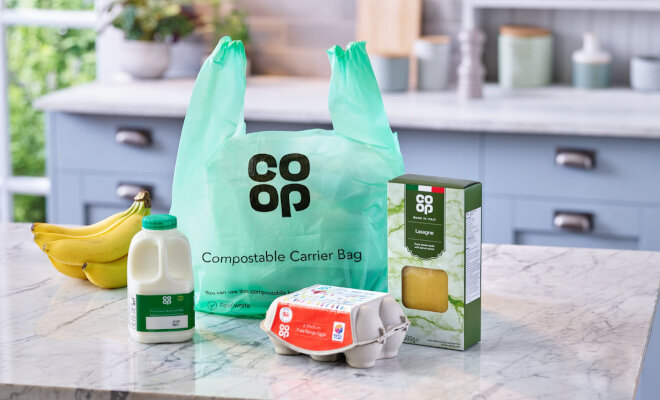 edie Sustainability Awards 2021
We have been named Business of the Year in the edie 2021 Sustainability Leaders Awards in recognition of our work to create a sustainable future and support our local communities.
We won the top award at the national event, which celebrates the individuals and organisations that are taking their environmental and social performance to new heights in an effort to achieve a sustainable future, despite the challenges of the coronavirus pandemic.
Click here to find out more.