Cal's #PaddleAgainstPlastic Expedition Blog
Published 9 Sep 2020
Keep up to date with Cal's #PaddleAgainstPlastic expedition across the River Severn, just click on the boxes below to find out what she's been up to each day...
Recently we reached out to you, our members, to ask our environmental ambassador Cal Major about her latest expedition and what it took to travel all 345km of the River Severn on a paddleboard. Watch the video below to see Cal's answers to your questions...
Day 1
Welcome to the expedition!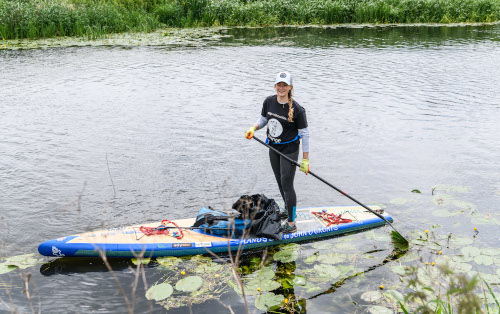 Over the coming week, I'll be stand up paddleboarding the River Severn from the Welsh/English border out to sea.
At 354km, the River Severn is the UK's longest river, and the stretch I'll be paddling spans Shropshire, Worcestershire and Gloucestershire, and the cities of Shrewsbury, Worcester and Gloucester. The whole reason behind this trip is to connect the dots between the plastic we use inland and that which ends up out to sea, contributing to the huge and often overwhelming marine litter crisis.
It can be difficult to know what we can do to help tackle such an enormous issue, however, all of our lives are linked to the ocean in a number of ways, and especially through our country's rivers.
The plastic we use in everyday life is often single-use plastic, which is used just once before it's thrown away, seemingly never to be seen again. However a terrifying 8 million tonnes of plastic enters our oceans each year globally, that's a truckload every single minute! Some of this is, sadly, intentionally dumped into the sea, however, in the UK the majority of plastic entering the sea finds its way there else-how; often through our rivers. Storms, winds and heavy rains can easily transport plastic into the rivers, from where it can flow into the ocean, where it is often lost forever.
But it doesn't have to be this way! 80% of marine litter originates from land based sources, and so even if we don't live by the sea, all of us have a role in protecting our great big blue life-force. This week we'll be exploring some of these ways, as well as how wonderfully beneficial time by the water can be for our wellbeing.
The River Severn starts its journey out to sea up in the Welsh hills, in the Hafren Forest. My plan today is to hike the seven-mile round trip to the source of the Severn, to get a closer look at where this magnificent body of water begins.
The river is not suitable for a SUP at this stage, and in fact, doesn't become so until near the Welsh/English border. So that's where I'll be getting onto the river today, at Crew Green, for an afternoon 16km to Montford Bridge.
I'm really excited to be getting underway - rivers are an incredible resource for us all to share and enjoy, and coming from a mostly ocean paddling background, I'm looking forward to exploring a new environment. I'm expecting to see lots of plastic, but also hoping to spot some wildlife - did you know there are Otters in the River Severn?
I hope you'll follow along this week using the #paddleagainstplastic hashtag and following @midcountiescoop. Keep an eye out for our daily call to action on how you can be a part of tackling plastic at source, and how to reconnect to our blue spaces.
Thanks for helping look after our glorious rivers and ocean!
Cal
Day 2
Thursday 10th - It's Zero Waste Week!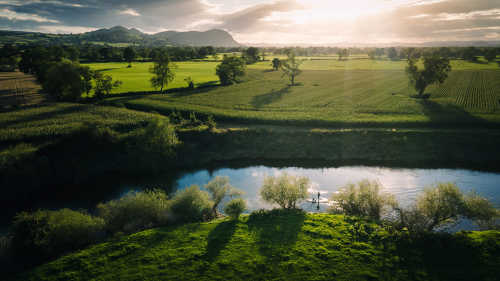 The first day of paddling has gone wonderfully, I can't quite believe just how gorgeous the River Severn is! I paddled 17km until it was dark and was graced with Kingfisher, Heron, Ducks, Swans and I even heard an owl. I paddled between rows of enormous ancient trees, and cows grazing on the banks.
However on the very same stretch, I saw Kingfisher, I also picked up plastic bottles; amongst the ducks, I was tearing plastic bags out of the trees lining the river, and as I paddled into the sunset I picked up discarded frisbees and buckets. But there's something we can do about this.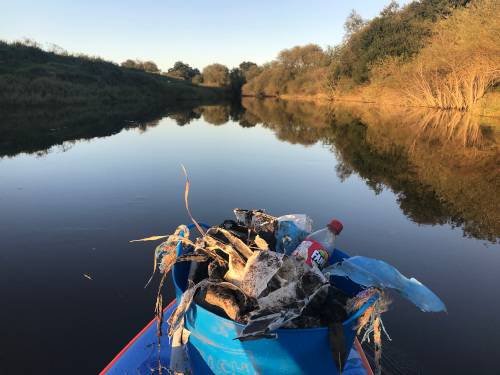 This week is Zero Waste Week, an initiative to encourage and empower people and businesses all around the world to reassess the waste they create. Reducing the amount of single-use plastic we each use can be one of the most empowering ways of tackling the plastic problem. However, it can often feel like a bit of a mammoth task.
Have you ever assessed how much plastic is going into your bin each week, or each month? It can be quite overwhelming to wonder how to change this. This overwhelm can often be paralysing.
However my challenge for you today is to take the first step on your journey towards less waste. You don't have to go 'Zero-waste' overnight - any small steps you can make to reduce the amount of unnecessary plastic you use is a great start, something to be proud of, and I'd encourage you to focus on this rather than feeling guilty about what you can't currently do.
A recent study found that in the UK we are discarding 295 billion pieces of plastic each year. That's a pretty scary number, and it can feel a little like one person's efforts is just a drop in the ocean in comparison. However reducing the amount of plastic we each use has much further reaching effects than just reducing the amount of plastic in landfill, or worse being washed into our rivers and out to sea.

We humans, are complicated creatures, and it's been shown that to get on board with something, we need to feel like other members of our community are too for it to feel worthwhile. There are loads of support groups on Facebook for how to use less plastic in your day to day life, and I've written several blogs about it here: https://paddleagainstplastic.com/writing/
Your choice to use less plastic might just encourage somebody else to do so as well. This crisis isn't just up to us to solve - businesses and government need to get behind it and make their changes too, but the drive to do that often comes from public pressure. So the more people who are aware, and care, about reducing the amount of unnecessary single-use plastic in our lives, the sooner we'll have change from all the important parties.
Thanks for any actions you can take towards Zero Waste - the less we use, the less goes into places like the River Severn, and eventually out to sea.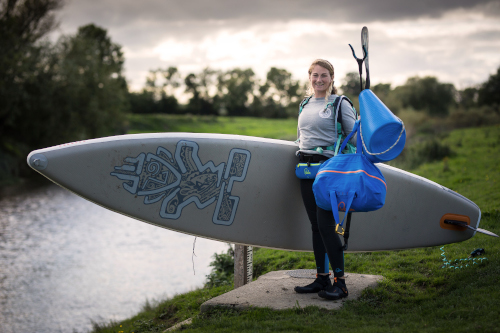 Cal
References: https://www.itv.com/news/2018-10-28/uk-throws-away-295-billion-pieces-of-plastic-waste-a-year-report-estimates
Day 3
Friday 11th - Keep Britain Tidy Great British September Clean!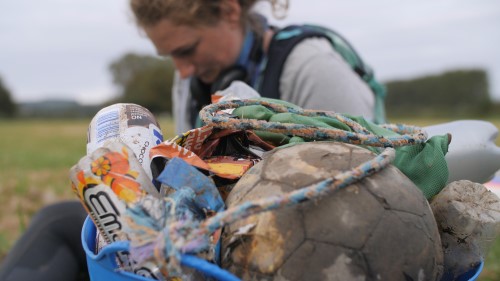 Yesterday was a long day on the water, with 8 hours and 46km of paddling from Montford Bridge to Cressage. The first section approaching Shrewsbury was absolutely stunning, with a really remote feel to it and kingfishers, herons, and even a red squirrel! I was finding plastic sheeting in the trees, but nothing floating in the river. This stretch was super tranquil - hard to believe I was so close to civilisation!

It was a real treat to see Shrewsbury from the water, the first city of the trip. Further along from the city, the plastic situation changed substantially. I was still finding things stuck in the trees, but this time it was single-use carrier bags and wet wipes and added to that were plastic bottles and takeaway trays floating in the water. The human impact downstream from the city was starkly noticeable.
I collected as much as I could fit in my bucket - 7kg today. Which brings me onto today's challenge:
Today is the start of the Keep Britain Tidy Great British September Clean!
My challenge for you today is to do your very own litter pick.
I can hear you over there, asking what the point is! I know it can feel like such a tiny action in comparison to the enormity of the issue, however, a recent study from the Canals and Rivers trust found that if each person who visited the canals and rivers picked up just one piece of litter, they would be free from it in just one year! At the moment, enough plastic to fill 20,000 bin bags is washed from our waterways out into the ocean each year.[1]
The Keep Britain Tidy clean up is giving you encouragement and tips to help stop litter from harming the environment. Each piece of rubbish you collect no longer has the ability to harm an animal or to be blown into our rivers and canals and washed out to sea.

Wherever you are - whether you're going to pick up by your local waterway, park or just in the street outside your house, use the #paddleagainstplastic hashtag to share your successes, and please encourage your friends and family to get involved too. More info on the Keep Britain Tidy campaign can be found here.

If you are feeling particularly adventurous and want to do your own Paddle Against Plastic (and are an experienced paddler and can do this safely), I'd love to hear about your experiences! Some tips are here.
Please help us to remove litter from the environment while we still can before it has a chance to get into our rivers and ocean, which are gorgeous and important ecosystems worthy of our protection.
References: https://canalrivertrust.org.uk/news-and-views/features/plastic-and-litter-in-our-canals
Day 4
Saturday 12th - Blue Spaces and Mental Health
It's the weekend. How was your week? I hope you now have some time to unwind and enjoy our great outdoors.
Yesterday's paddling took in 35km of the river, 7kg of rubbish including an inflatable boat I pulled out of a tree, several towns and lots of wildlife.

I was also joined by 4 lovely people, with whom I enjoyed 3 hours of river time. Being on the water was a tonic for all of us, and chatting about it got me to thinking about looking after our mental health through time in nature.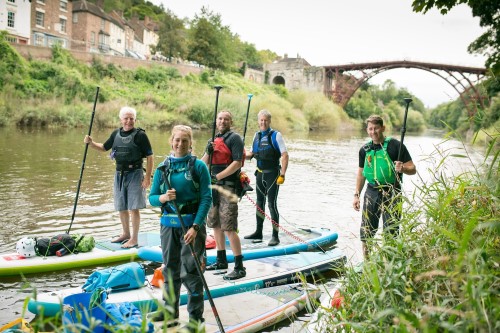 So today I want to discuss our connection to our natural world. Particularly our blue spaces.
In our hectic lives, it can be really hard to find time to spend outdoors, but it's so important for our wellbeing and our mental health. Now I'd like to start with an important concept: We all have mental health, just as we all have physical health. We might not all have a mental illness at any one point in time, but we all have a fundamental need to preserve our mental health. Time in nature, particularly by water, has been clinically proven to help with that, by calming and reconnecting us.

We have become disconnected from our place within nature in our society, and yet wherever we are in the UK we're never too far from a watercourse, to be enjoyed and to help top up our wellbeing batteries. These waterways, canals, rivers, streams, are like the arteries and veins running through our country connecting us all to the ocean. They are important ecosystems within themselves, often supporting amazing birdlife, mammals, fish and plants, and we can be a part of that ecosystem too. Right here on the River Severn, I've paddled past countless kingfishers, herons, little egrets and ducks, and each time I do it feels like a huge privilege - they really put a smile on my face.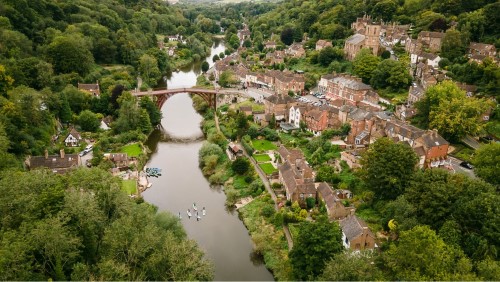 These waterways are also our direct link to the ocean, part of the water system circulating around our globe. So even if we live nowhere near the coast, our lives and the ocean are linked, and our actions are linked to the health of the ocean. What's more, the ocean produces 50-80% of the oxygen we breathe on Earth, meaning it is in all of our best interest to appreciate, love and protect our blue spaces.
So my challenge for you today is to get out to your nearest body of water, if safe to do so, and enjoy some quiet, mindful time there. I've written a blog with some tips on how to do so here:
https://www.calmajor.com/blog/mindful-exploring
Put your phone on silent, and just see how it feels to spend some quiet time really soaking in your local watery environment. Now how does this relate to your feeling of needing to protect it, if it was under threat?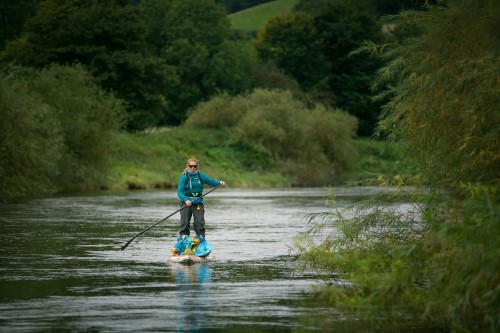 Unfortunately, our natural world is under threat from so many crises, but finding that emotional connection with nature is the first step in wanting to protect it. People Protect What They Love, but they only love what they know! So who else can you take with you on your next foray into nature; is there someone in your life who you think might benefit from some blue therapy?
I hope you have a wonderful weekend and don't be afraid to switch off and find that reconnection to our beautiful blue spaces.

Cal
Day 5
Sunday 13th - Time to Get Creative
Yesterday was a long day! 10 hours and 44km of paddling, and 12kg of rubbish collected from the sides of the River Severn. I've now made it to Worcester and was treated by the sight of the evening sunshine on the cathedral.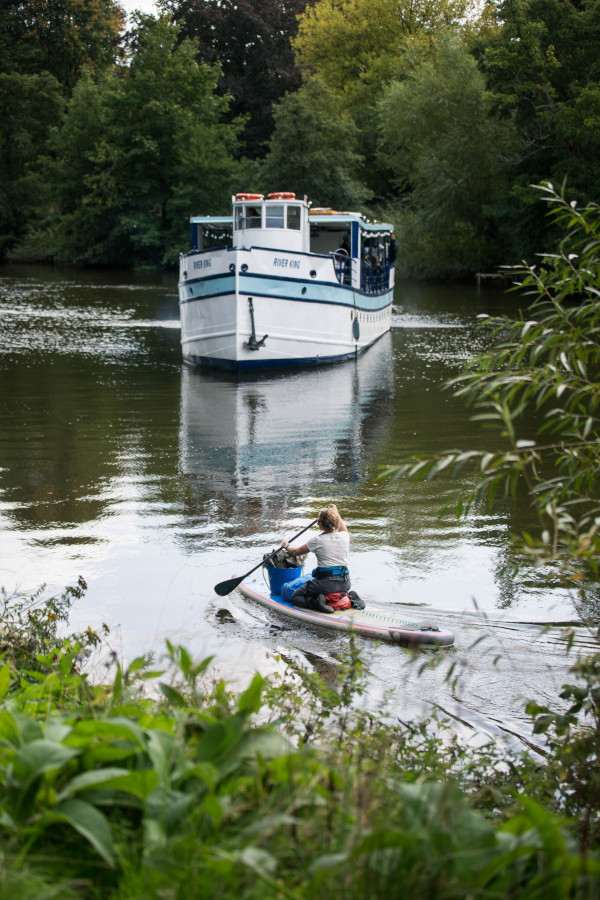 I paddled through several towns before arriving into Worcester, and the type of plastic I've been finding has shifted again - I'm still finding the hay bale wrappings in the trees, but more and more am coming across plastic bottles, crisp packets and polystyrene takeaway containers as the river flows through more built-up areas.
Have you been getting involved with the Keep Britain Tidy Clean Up? Click here for more information.
If so, have you found some litter lying around that could double up as artists material? Today, my challenge to you is to get your creative juices flowing! This is like the good old days of Blue Peter only even better for the environment! Please be careful and make sure anything you've picked up is safe and clean; if you're not comfortable with making artwork out of litter you've collected then can you find something you've used in the house instead?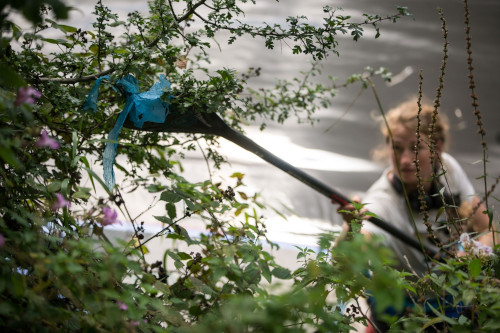 Recent studies have revealed marine plastic pollution in 100% of marine turtles, 59% of whales, 36% of seals and 40% of seabird species examined.1 So today's challenge is going to be turning those harmful objects into something beautiful.
Once you've tapped into your inner artist, we would LOVE to see your creations! Please use the hashtag #paddleagainstplastic and we'll share our favourites throughout the day!
Day 6
Monday 14th - Plastic Bags
Yesterday was a slightly shorter day, with a headwind all day meaning just under 30km of paddling, over six hours. However, the sun was shining and there was HEAPS of plastic to be found in the river banks. There were many plastic bottles as I passed through Worcester and the towns beyond, but also lots of plastic stuck in the trees along the side. One of the main things I was finding was plastic carrier bags lodged in the branches.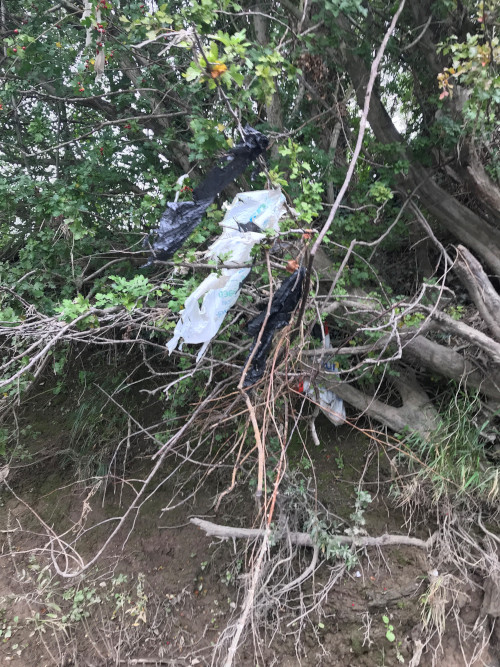 In 2018/19, in the UK we used 1.11billion plastic bags in a year. That was a 90% decrease compared to before the 5p carrier bag charge was introduced. However, it's still an enormous amount of unnecessary plastic being used.
This is one of the simplest single-use items we can do without. By simply keeping reusable bags in your car, committing to using them when you go shopping instead of picking up a plastic bag, between us we can hugely reduce this amount of unnecessary plastic, so much of which ends up in our waterways.
This is also one of the most harmful items for marine life, as animals can get their heads stuck in them, eat them mistaking them for jellyfish, and they break down into easily-eaten fragments, which can then leach harmful chemicals into our precious marine animals.
The Midcounties Co-op has pledged to switch from plastic to compostable carrier bags in their food shops - this is a fantastic step which will eliminate the production of 3 million single-use plastic bags each year!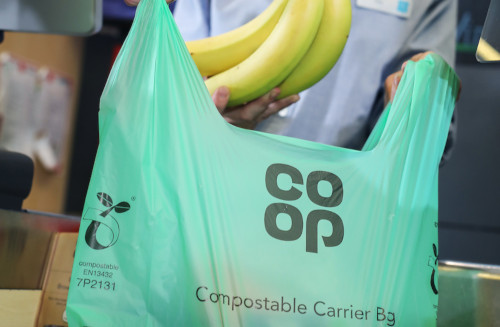 However, each compostable bag still carries with it a carbon footprint, and they need to be carefully disposed of so as not to also end up in our environment. The best way to do this is to use them as food waste bin liners if you have a food waste collection in your area.

Remember the hierarchy - Reduce, Reuse, Recycle - the best option is to use carrier bags you already own. So, my challenge to you today is to make it easy for yourself to commit to using a reusable shopping bag - stash one wherever you feel you might need one! Car, handbag, hiking backpack… if we just plan a little bit ahead and get into good habits, I do think single-use carrier bags are one of the easiest items we can live without. Good luck!

Cal
Reference:
https://www.theguardian.com/environment/2019/jul/31/shoppers-use-of-plastic-bags-in-england-continues-to-fall
Day 7
I've made it to the tidal section of the River Severn! This means only one or two more days paddling to where the estuary truly opens up - at the moment it still very much feels like a river even though it is an extension of the tidal Bristol Channel.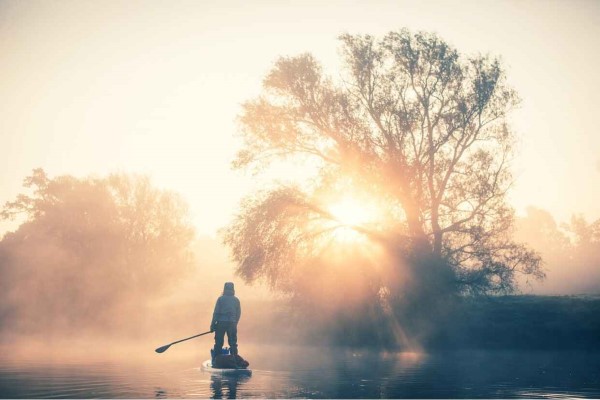 It was a gorgeous start to the day, with sunbeams glistening off the water and reflecting in the mist, herons and ducks accompanying my first few miles. I'm feeling very tired now and my body is definitely feeling the effects of the last six days of paddling! However I'm also full of passion to help protect this River, and other rivers around the UK, the best we can. It is such a special environment and one we can all take action to protect. One we can all spend time near to recharge out batteries.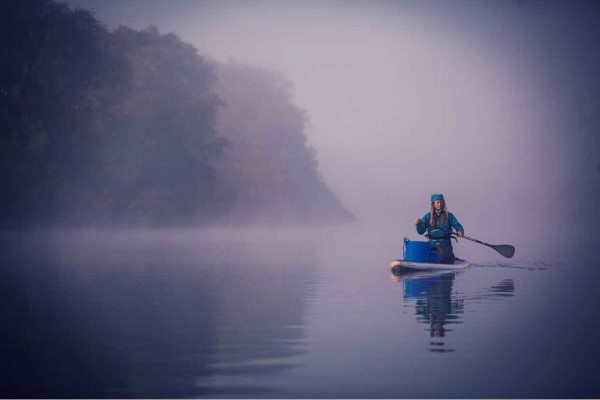 We've been discussing this week some things we can do as individuals to help tackle the plastic pollution problem. This is getting all the more apparent now I'm in this section of the river, where there is nothing standing in the way of plastic's course out to sea, where it is likely to be lost. Today I collected another 5kg of plastic over the six hours I was on the water.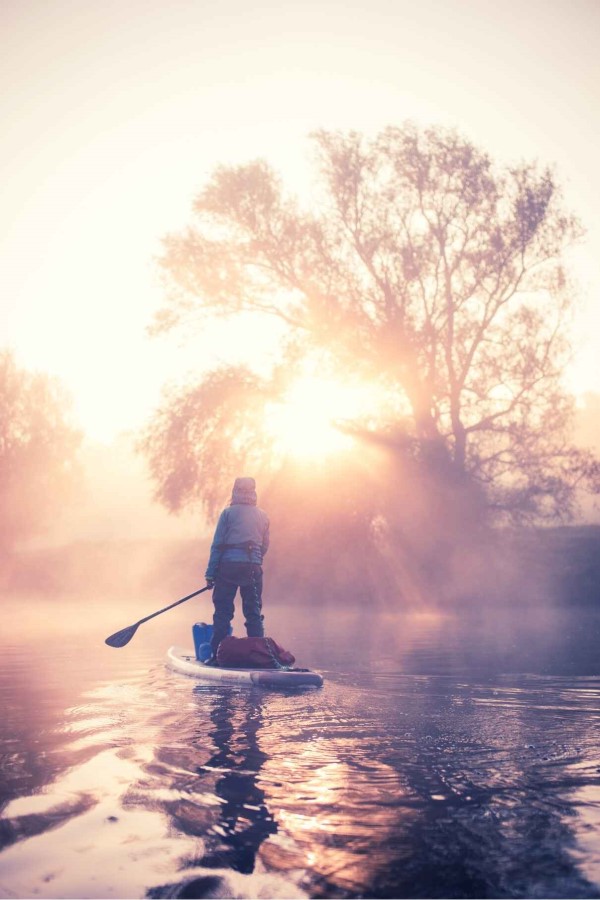 However, this isn't just up to us as individuals. We have enormous power to make changes within our communities, especially if we act collaboratively and cooperatively. Governments and businesses also need to take responsibility for their actions too.
Our voices as individuals and communities are important in directing these changes.
The Midcounties Co-op is committed to making its own positive changes for the environment, and yesterday you heard about the plastic bags being swapped for compostable alternatives.
The Midcounties Co-op follows the DOES model: passionate about:
Democracy

Openness

Equality

Social Responsibility.
We want to hear from you about what you care about - what other changes do you want to see your Co-op make to help protect the local environment which, as we learnt on Saturday, is so vital for our wellbeing?
See below to have your say...
Thank you for your input - together I really do believe we are capable of long-lasting, positive change.
Cal
Day 8
I've finished paddling the River Severn! Yesterday I was greeted at Sharpness by the Severn Area Rescue Association, who helped recover a freezer that I'd pulled out of the water, and carried for 20km on my board. They also then helped recover me and my board from the infamous mud along the banks of the Severn.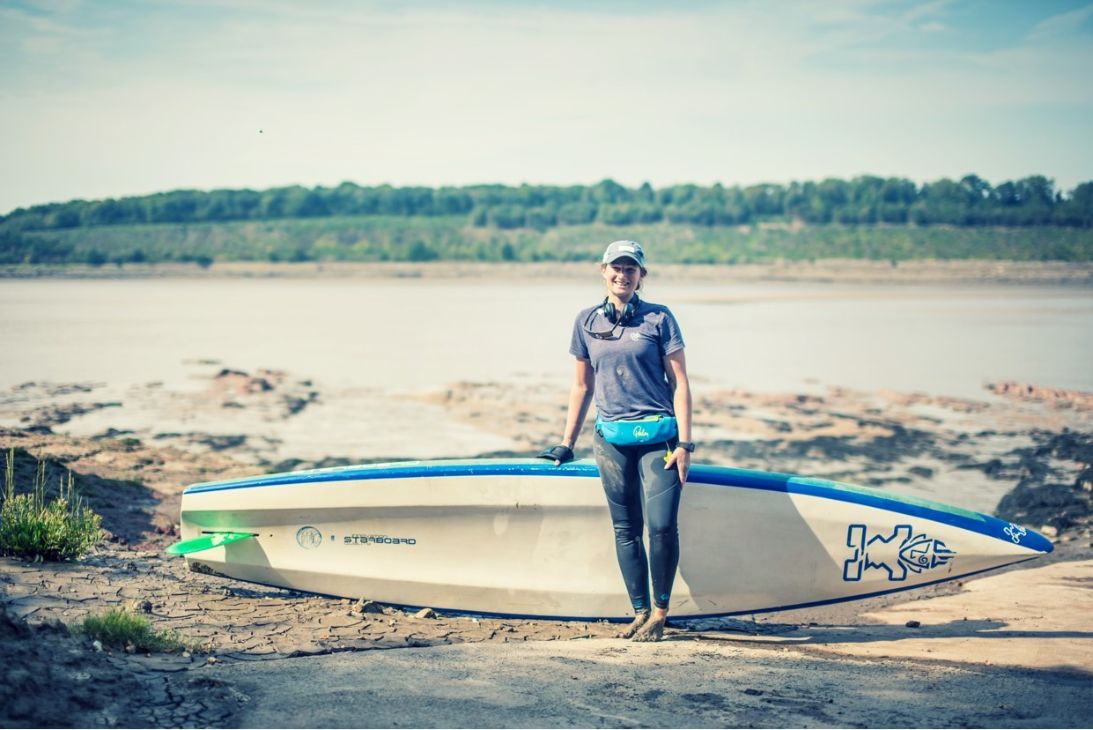 What an incredible journey it's been, and thank you for following along! I hope you've enjoyed being a part of the journey and have learnt and felt inspired to help protect our waterways and ocean from the threat of plastic pollution.
Yesterday's 34km took the total mileage to 240km, and with yesterday's freezer, the total amount of rubbish I collected from the river in one week exceeded my body weight - an estimated 70kg of rubbish no longer on its journey out to sea.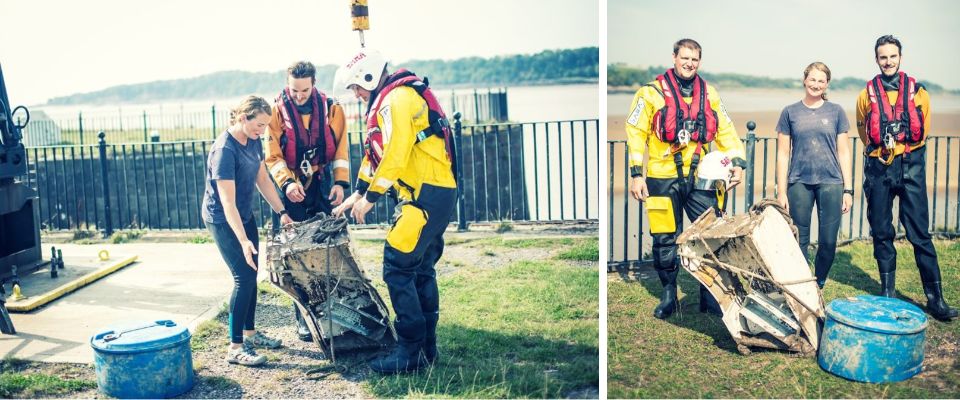 Aside from freezers, the three most common things I found were:
Plastic bottles - especially water bottles! This is one of the simplest things we can avoid - with safe, clean and free tap water in the UK, an easy and cost-saving solution is to commit to using a refillable bottle.

Plastic bags - as we heard earlier in the week, the Midcounties Co-op have switched to compostable carrier bags, but the better option is still to avoid single-use bags where we can.

Flushed items such as baby wipes, menstrual pads and pantyliners - my absolute least favourite things to pull out of trees, but unfortunately all too common. Remember only the three Ps should be flushed down the loo! (I'll let you guess what they are!). There are also lots of reusable bathroom products on the market now.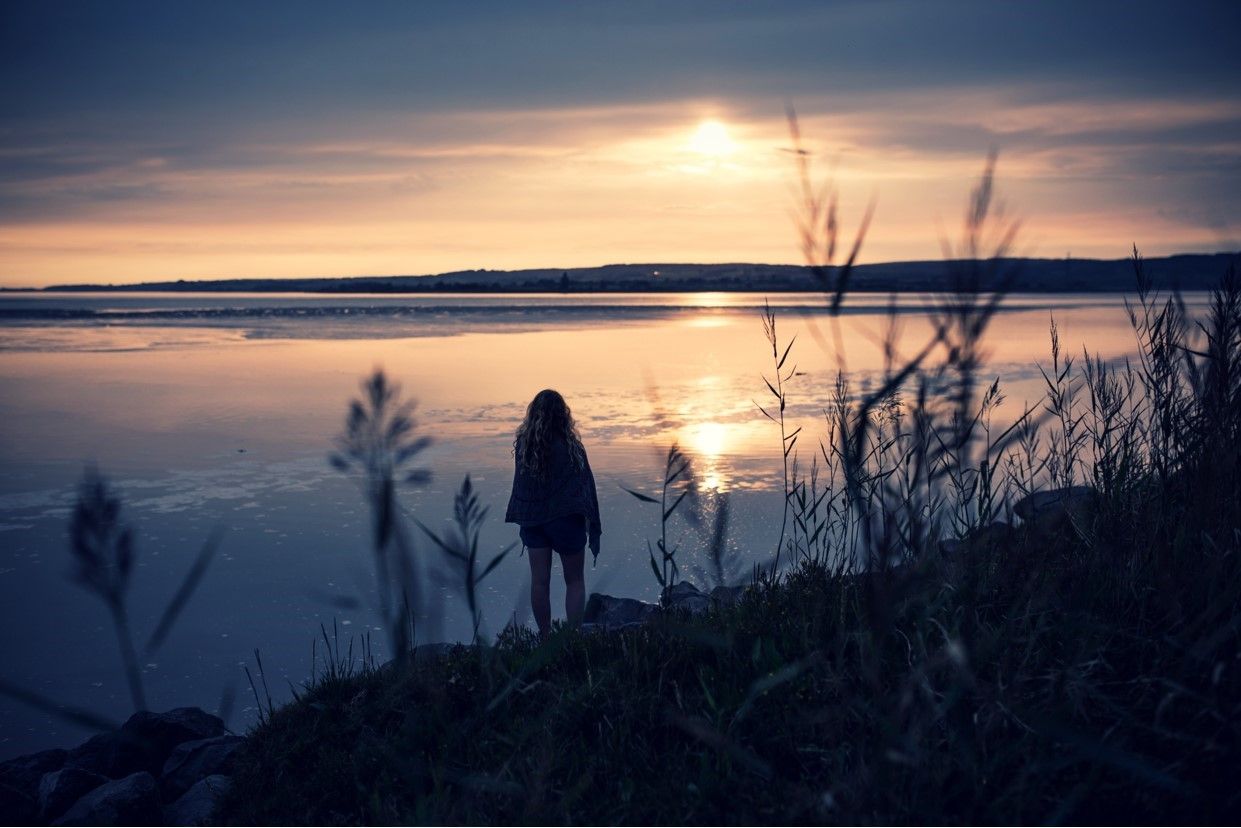 One of the most unexpected results of the journey personally was how utterly glorious the river was, so full of wildlife, with kingfishers, herons, ducks and buzzards an almost daily sighting. The upper part of the river felt so wild, so untouched by humans, and the plastic situation there reflected that with mostly agricultural waste (such as hay bale wraps) the only plastic I found. On approach to, and after, the towns and cities, the river felt tamed and sluggish, the flow hampered by concrete walls and locks, and single-use plastic more and more common. I hadn't expected to be so affected by this and found it heartbreaking to think that this incredible, powerful, important ecosystem was being so affected by us humans, but then I haven't spent much time around rivers and so why should I have felt a connection to it until then? I highly encourage you to find some time to spend by the River Severn, or a river near to you, somewhere a little bit remote if you can, and see how being there makes you feel. Does your head feel clearer, your heart a little fuller? Do you feel more determined to protect it?
The journey I took was following plastic from inland out to sea, and watching it bob along with the flow of the river on its journey to the ocean, where it would likely be unimpeded in its harm to the marine environment, really brought home to me how the Marine Litter Crisis needs to be viewed more broadly than just affecting the ocean. It begins inland, and it affects our inland waterways too, and the great news is that that means we can ALL be a part of helping to change it.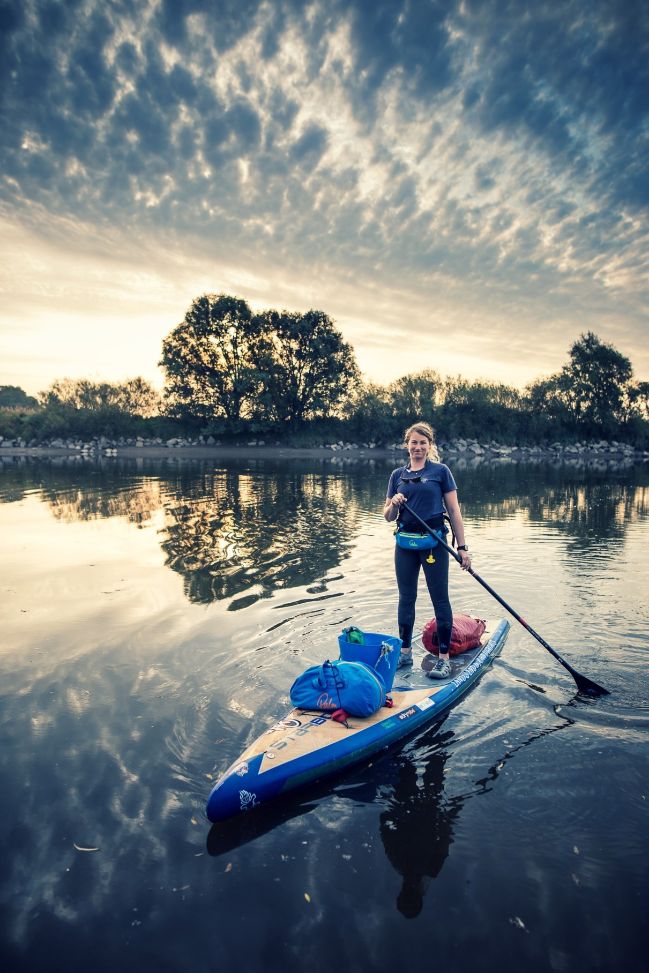 I've met some absolutely lovely people along the way - thank you to everyone who got on the water with me, cheered me from the side of the river, or helped me drag a freezer from the muddy banks. Thank you to all of you for following along on social media or via these blogs, and for EVERYTHING you're doing to help protect our special blue spaces. Huge thanks to my partner James who filmed and photographed the expedition, fed me tea and cake at strategic locations and picked me up each evening when I was too tired and sore to go any further. Of course a huge thank you to the Midcounties Co-operative for supporting this expedition, and for their dedication to protect our natural environment and our people in it. I know that together we really can make a difference.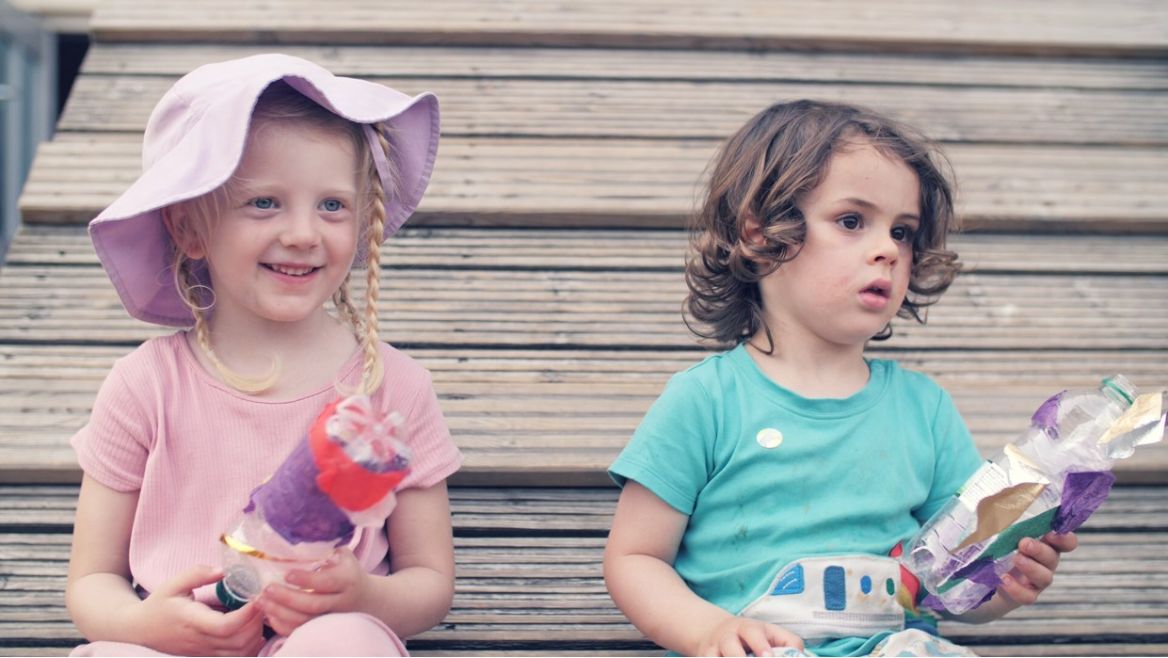 Two children I met along the way yesterday afternoon, Autumn and Coby from the Bristol nursery.
I hope you've enjoyed following on this journey: Please keep in touch with us and tell us what you're learning about plastic pollution, and how you'd like Your Co-op to further tackle this issue.
Keep a lookout for the film which will be premiering on Youtube on Thursday next week!

Right, time for a long soak in the bath!

Cal